How To Choose The Right Aluminum Outdoor Furniture? (tubular aluminum & cast aluminum)
Jan 31,2023 | Orange Casual
People who own homes often explore the idea of entertaining guests and family members outside. After all, distractions from within the home like the television or kids can interfere during conversations and other activities. Perhaps it could be said that outdoor furniture is one of the best investments a homeowner can make. It provides stylish and comfortable seating outside for just about any event imaginable. Although you might be excited to outfit your backyard with some chairs and a table, you might be overwhelmed at the diverse selection of products for you to choose from. On one hand, you have the elegant and functional look of wicker. Even wrought iron might sound like an appealing choice, especially if you need something durable to withstand harsh weather and abusive pets. Among all these competing choices, aluminum outdoor furniture is probably your best bet.
Aluminum is one of the lightest metals to exist. As such, it makes for a prime choice when it comes to outdoor furniture. Aluminum patio furniture is available in two common forms: tubular aluminum furniture and cast aluminum furniture.
Tubular Aluminum Outdoor Furniture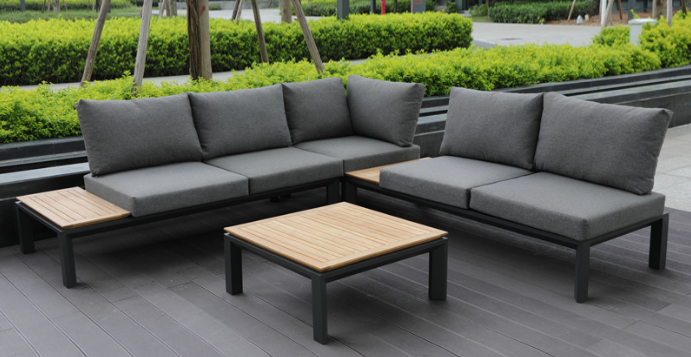 Most aluminum furniture is made from hollow tubing, often with internal reinforcing ribs for added strength. The tubing is cut and bent to form the elements of the furniture frame, which are then welded or bolted together by skilled craftsmen. Tubular aluminum is frequently the material of choice for contemporary styling. Over the last few years, finish options in metal furniture have become quite exciting. There are finishes which mimic verdigris, pewter and stone. There are smooth, gleaming finishes, textured matte finishes, single tone finishes, and some with a melange of colors. Not just good-lookers, these finishes are tough. They become plastic skin that virtually bonds to aluminum. They will not chip, peel or crack, and are six times thicker than paint, making them highly resistant to weather. These aluminum tubes allow for the patio furniture to be lightweight and easy to transport and store, and it is very easy to shape and design. For many situations, this type of aluminum is perfect, but due to the limitation of the aluminum tubes, this type of furniture often lacks detail.
Pros:
Lightweight: Easy to move and rearrange.
Durable: Resistant to rust and corrosion.
Low Maintenance: Easy to clean and care for.
Versatile: Suitable for various outdoor settings and styles.
Cost-effective: Generally less expensive than other materials like wrought iron or teak.
Cons:
Lack of warmth: Metal can feel cold to the touch.
Not as sturdy as other materials: May not hold up as well in heavy winds or storms.
Prone to dents and scratches: Can easily be damaged if not handled carefully.
Limited design options: May not have as much variety in design compared to other materials.
Cast Aluminum Outdoor Furniture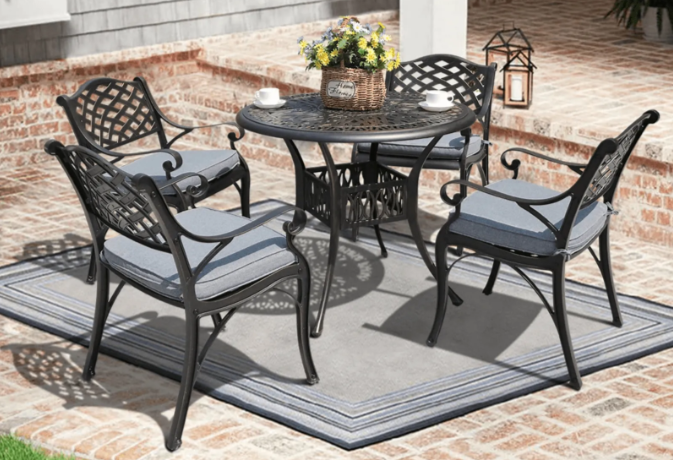 Cast aluminum is usually investment furniture. Distinctive and elegant, it features classic designs with roots in the cast-iron stylings of the 18th century. The cast aluminum furniture is produced by pouring molten aluminum into molds and then allowing it to cool. The prototype for each casting mold is hand carved, permitting elaborate detailing. Cast aluminum is undeniably handsome and elegant. While its beauty is striking, its demeanor is classic and understated. Furniture of cast aluminum is often so exquisitely detailed that it seems to have come from a museum. But, like tubular aluminum, it is also amazingly durable and easy to maintain. Since cast aluminum is pure and tough, it is probably the most popular type of aluminum outdoor furniture. Using a mold allows for cast aluminum furniture to feature intricate design elements, making these pieces much more sophisticated and stylized. Quality cast-aluminum furniture can be costly and is not for the family that craves a new look every few seasons.
Pros:
Durability: Resistant to rust, corrosion, and extreme weather conditions.
Low Maintenance: Easy to clean and care for.
Design versatility: Offers a wide range of styles and designs.
Heavier and more sturdy: Offers stability and can withstand heavier weight than tubular aluminum.
Cost-effective: Often less expensive than other materials like wrought iron or teak.
Cons:
Heavier weight: Can be difficult to move or rearrange.
More expensive than tubular aluminum: Generally more expensive than other materials.
Prone to warping: Can warp over time if not properly maintained.
Limited color options: May not have as many color options as other materials.
Not as comfortable as other materials: Can feel less comfortable than materials like wicker or cushioned furniture.
The Advantages of Aluminum Outdoor Furniture
Aluminum outdoor furniture is a popular choice for many homeowners and designers due to its numerous benefits. Here are some advantages of using aluminum outdoor furniture:
Durability: Aluminum is resistant to rust, corrosion, and weather damage, making it ideal for outdoor use. This material can withstand harsh weather conditions, including rain, wind, and sun, without fading, rusting or becoming damaged.

Lightweight: Aluminum is lightweight, making it easy to move around your outdoor space. This makes it easier to rearrange your furniture, store it during the winter, and move it to a different location.

Low Maintenance: Aluminum furniture does not require much maintenance, which is ideal for those who do not have much time to spend on upkeep. Simply wiping it down with a damp cloth or hosing it off is usually enough to keep it looking its best.

Style: Aluminum furniture is available in a wide range of styles, from modern to traditional. It can complement any design style and is available in a range of colors and finishes.

Affordability: Aluminum furniture is often more affordable than other materials, making it a cost-effective option for those who are looking for high-quality outdoor furniture.

Versatility: Aluminum furniture can be used in a variety of outdoor spaces, including patios, decks, and balconies. This makes it a versatile option that can be used in many different outdoor settings.

Environmentally Friendly: Aluminum is a sustainable and eco-friendly material, making it a responsible choice for those who are concerned about their impact on the environment.
How To Choose The Right Aluminum Outdoor Furniture?
When choosing aluminum outdoor furniture, there are several important factors to consider to ensure you make the right choice. Here are some tips to help you choose the right aluminum outdoor furniture:
Purpose: Consider the purpose of the furniture. Are you looking for a seating area, dining area, or lounging area? Do you want to create a cozy conversation area or a place for entertaining guests? This will help you choose the right type of furniture for your outdoor space.

Size: Measure the space where you plan to place the furniture. Make sure you choose furniture that will fit comfortably in your outdoor space, leaving enough room for you to move around and walk between pieces.

Style: Consider the style of your home and the surrounding area. Choose furniture that will complement the style and create a cohesive look.

Durability: Look for furniture that is weather-resistant and durable enough to withstand the elements. Furniture that is constructed from high-quality aluminum and features a rust-resistant finish will ensure it lasts for many years.

Comfort: Make sure the furniture is comfortable. Look for pieces with comfortable cushions and seating, especially if you plan to spend a lot of time outside.

Maintenance: Consider the maintenance required for the furniture. Furniture that is easy to clean and maintain will save you time and effort.

Budget: Determine your budget for outdoor furniture. Aluminum furniture is available at a range of price points, so you can find pieces that fit your budget and style.

Warranty: Look for furniture that comes with a warranty. This will ensure that if anything goes wrong with the furniture, you will be covered.

Brand reputation: Consider the reputation of the brand. Look for brands that have a good reputation for producing high-quality, durable furniture.

Reviews: Read reviews from other customers to get an idea of the quality and durability of the furniture. This can also help you avoid buying furniture that is prone to problems.
Is Aluminum Outdoor Furniture a Good Investment?
Yes. Aluminum outdoor furniture can be a good investment for those who are looking for durable, stylish, and affordable outdoor furniture. With its low maintenance requirements, a wide range of styles, and ability to add value to your property, aluminum outdoor furniture is a wise investment for those who want to enjoy their outdoor space for many years to come.
---
When choosing aluminum outdoor furniture, it's important to consider both tubular aluminum and cast aluminum options. Tubular aluminum is a lightweight and affordable option, making it ideal for those who are looking for a budget-friendly option. Cast aluminum, on the other hand, is a more durable and sturdy option that is perfect for those who want furniture that can withstand heavy use.
In conclusion, when choosing aluminum outdoor furniture, consider your needs and budget to determine the best option for you. Whether you choose tubular aluminum or cast aluminum, both options offer durability, style, and affordability, making them great investments for those who want to enjoy their outdoor space for years to come.
Recommend Aluminum Outdoor Furniture for you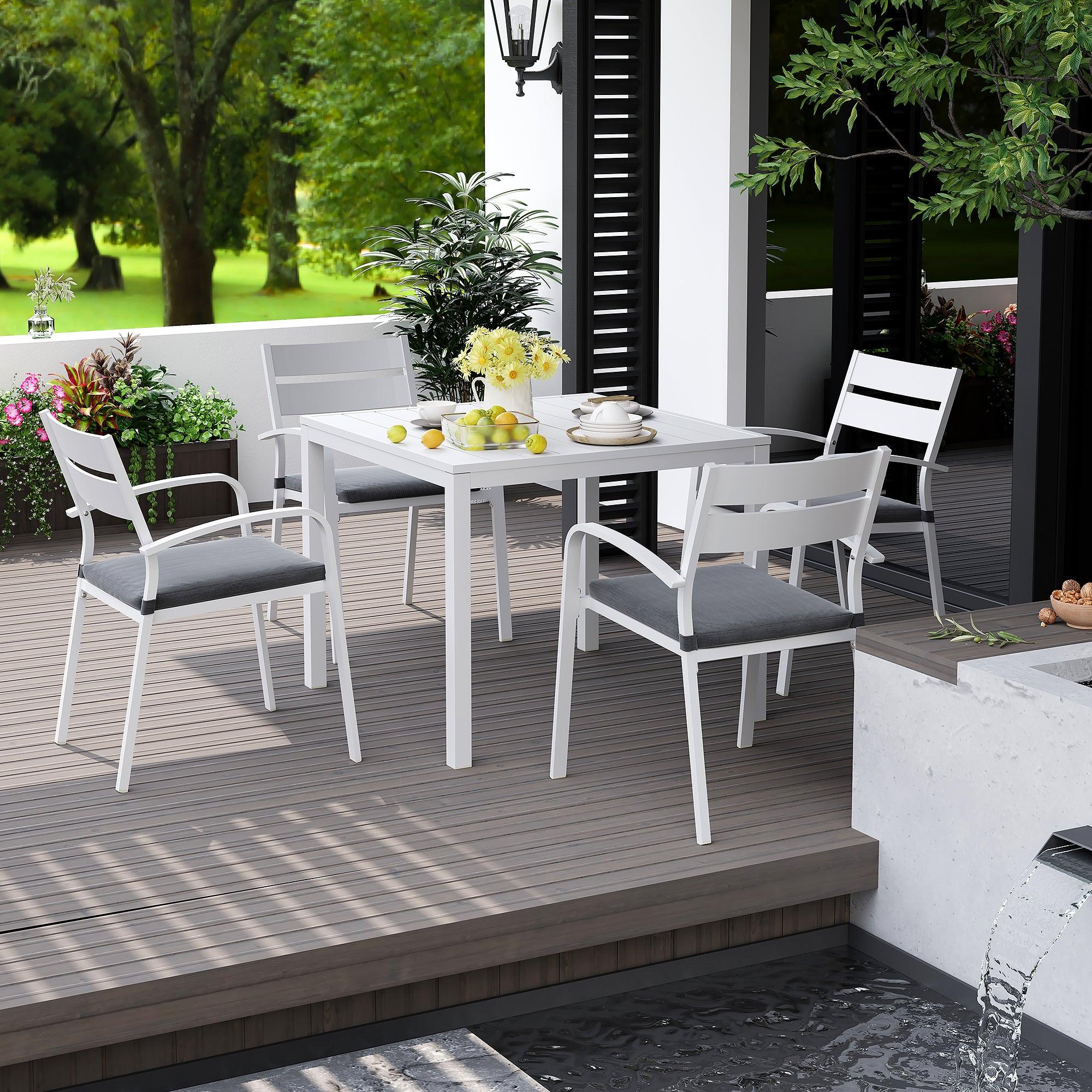 5pcs Aluminum Outdoor Dining Set for 4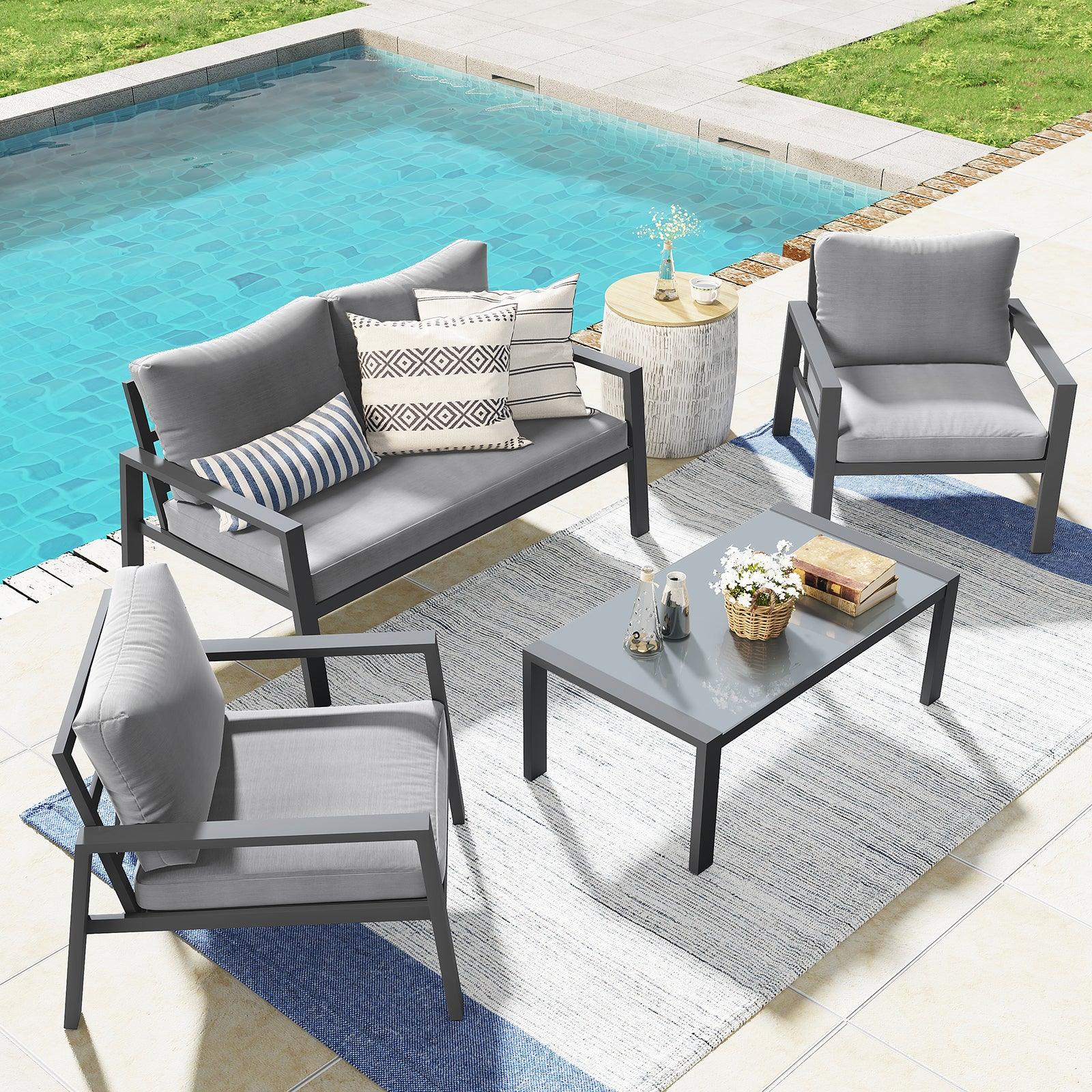 Aluminum Outdoor Conversation Furniture Set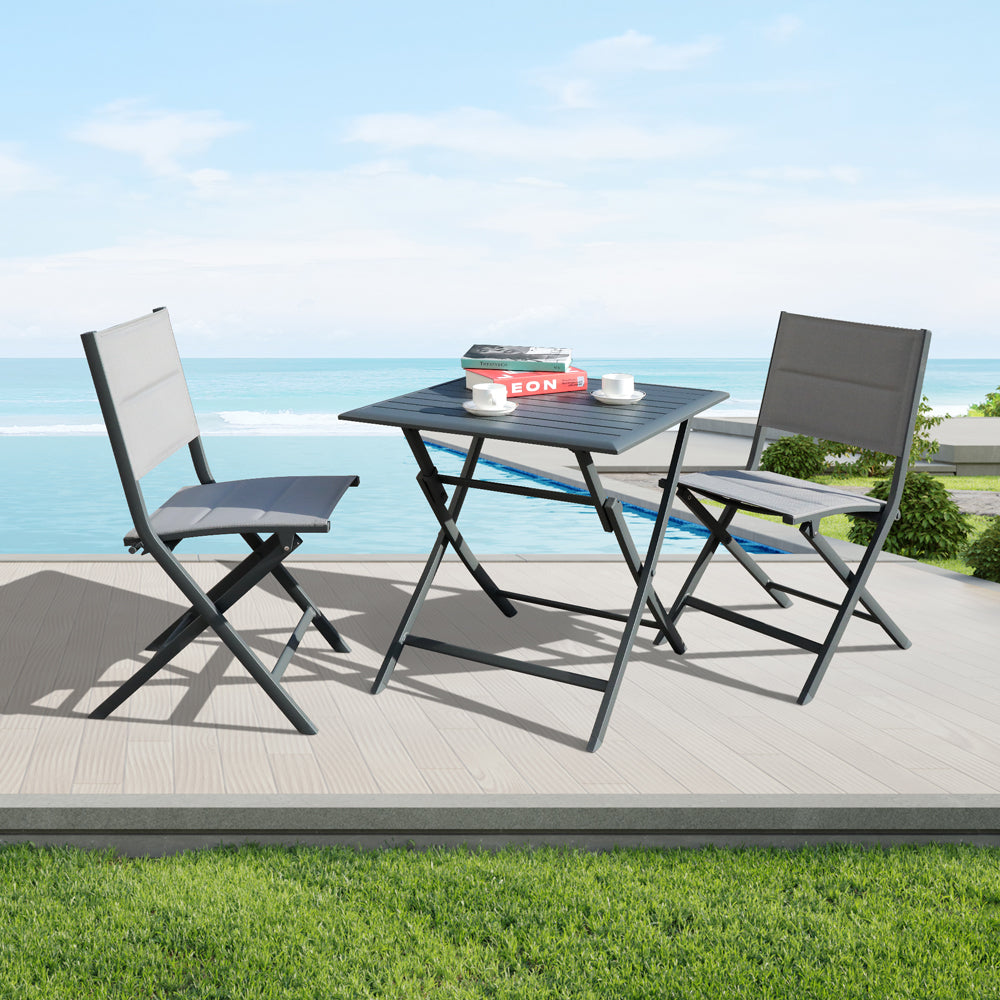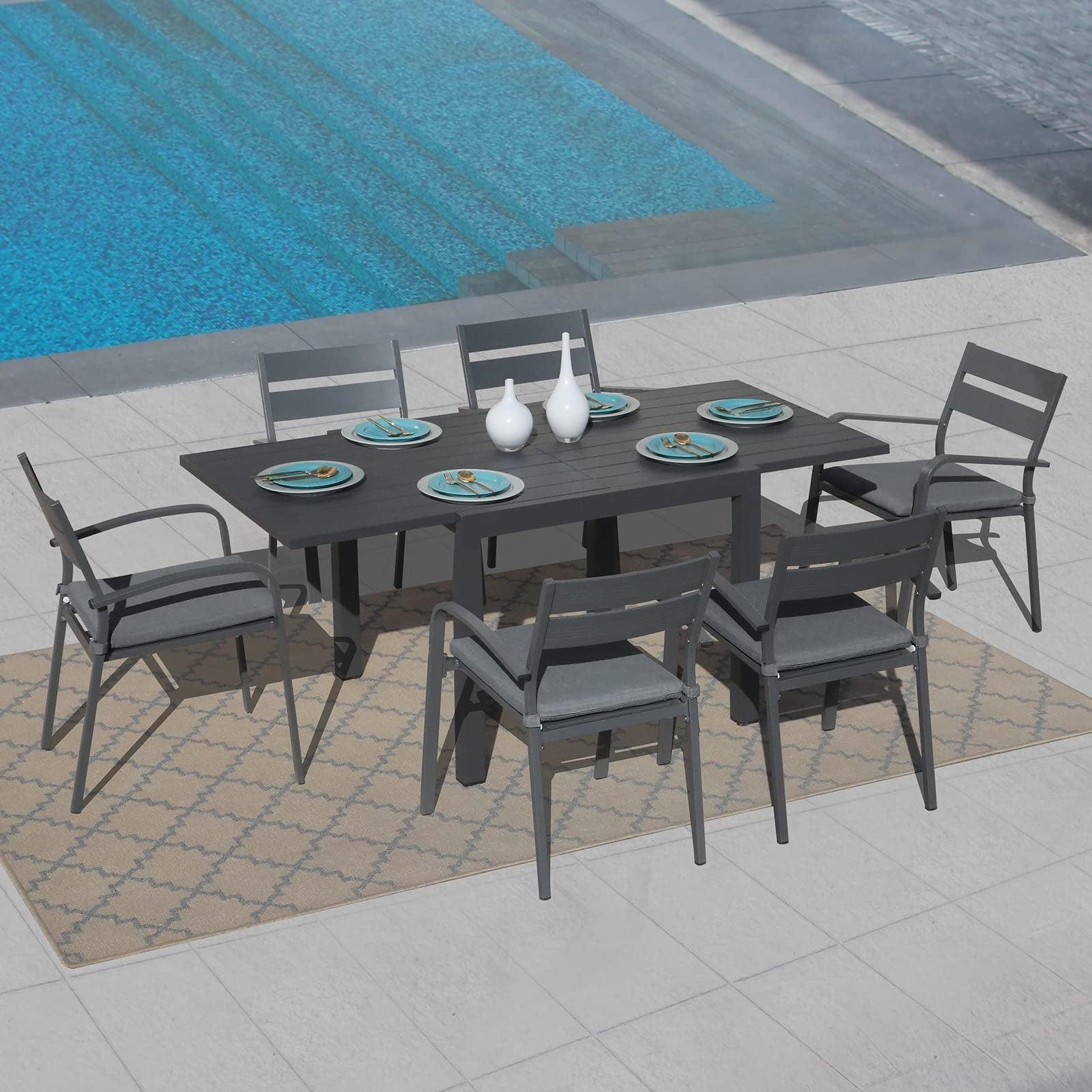 Aluminum Extendable Dining Table for 4-6 Person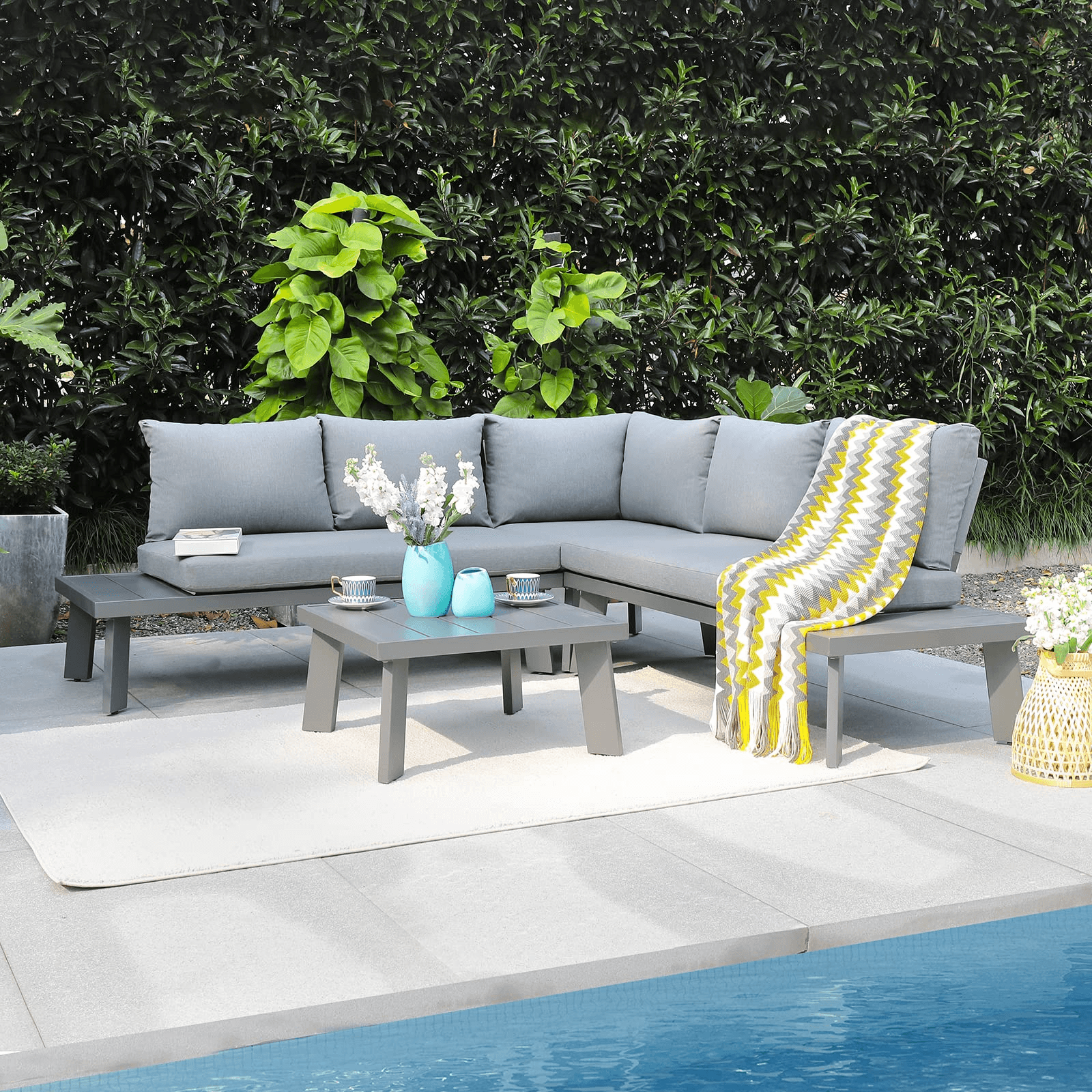 Comment