Patio Furniture Materials
Mar 14,2022 | Orange Casual
Patio Furniture Materials
The type of patio furniture you choose is one of the most crucial decisions you'll make. When choosing outdoor furniture, think about how durable it will be and how it will fit into your life.
Aluminum:
Lightweight
It doesn't rust nor fade
Low maintenance
Available in a range of colors
Powder-coat finish provides durability
Protect your surface with car wax or mineral oils
Rinse with soapy water.
Plastic:
Lightweight
Often stackable
Made from recycled materials
Use mildew-preventing cleaners
Rinse with warm water
PVC (poly-vinyl chloride):
Lightweight
Low maintenance
Available in many colors
Rinse with soapy water.
Steel:
Durable and sturdy
Comfortable
Protective finish is recommended to stop rust
Rinse with mild soap
Rattan and Wicker:
Flexible and light weight
Comfortable and durable
Available in a range of colors
Dust can occasionally
If furniture is not protected, use all-weather fabrics as cushions and pillows
Rinse with mild detergent
Wood:
There are many types of teak, cedar and cypress woods, as well as pine, and others.
Teak is a beautiful combination of beauty, durability and elegance
Sturdy and solid
To prevent fade, use paint with UV filters
It may be necessary to add a preservative
Rinse with soapy water.
To maintain your original appearance, use oil and brightener
Wrought iron:
Durable and sturdy
You can choose from a variety of designs
Paint can be used to repair cracks
Use rust protection
Rinse with mild soap
Types of fabric for outdoor furniture
It is important to consider the type of fabric used for outdoor furniture. When outdoor furniture isn't covered, durability and fade resistance should be considered. Stain resistance and easy cleaning are important qualities to look for if you entertain often or have children who are likely to spill things. Outdoor furniture should be durable, attractive, and easy to clean.

Polyester:
Use mild soap and warm water to clean.
This is the most affordable option.

Acrylic, Cotton Blends, Olefin, and Other:
Weather resistant

Tip: Use UV-resistant and weather-resistant fabrics for cushions to give your patio furniture increased durability and sun protection.
Patio Accessories to Complete Your Space
Patio accessories can be functional or stylish. Outdoor throw pillows and outdoor rugs can be easily changed to update the appearance of your outdoor living area.

Decor:
Accessory like pillows, rugs, and lanterns add style and color to your outdoor space.

Umbrellas and Awnings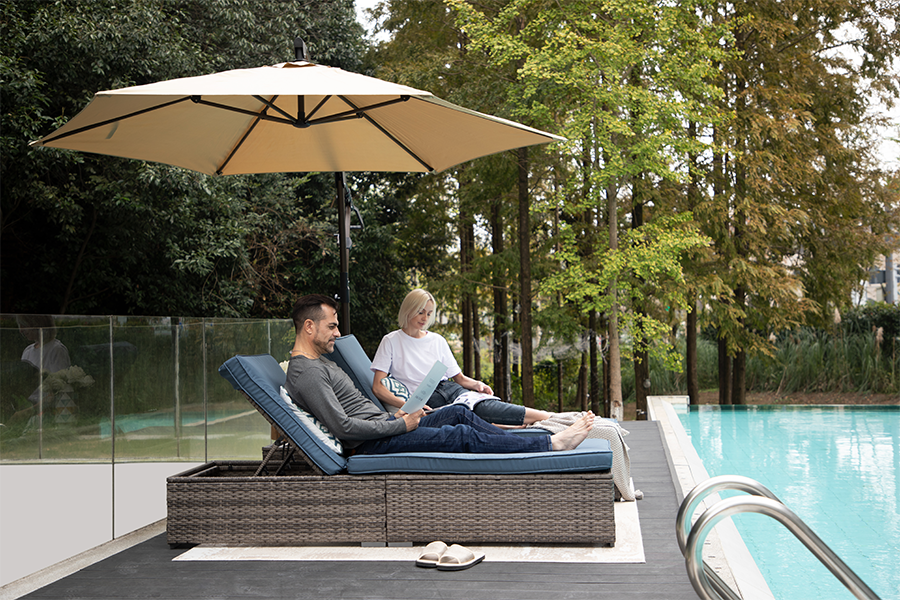 To create shade, you can add patio umbrellas to your deck or patio that are directly exposed to the sun. These will protect your seating areas from the sun's heat and ultraviolet rays. It also reduces the amount of sunlight that can cause outdoor furniture to fade.

Accordion tables: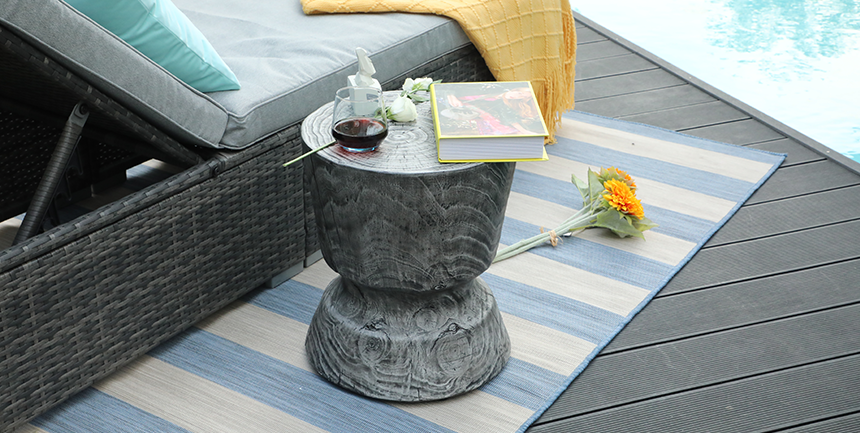 To save space, accordion tables can be folded or expanded as required. These tables are great additions to any party or event where you need more table space but still want to be able to move around freely.
Ottomans: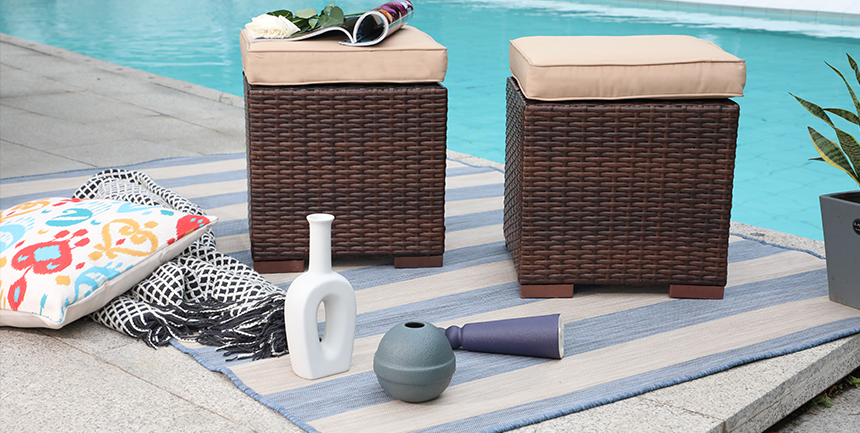 A Great Addition To Any Compact Space. Perfect for indoor/outdoor living space, such as a patio, garden, backyard, poolside, living room.

Carts:
The carts can be mounted on wheels and offer extra storage space and surface space in a stylish package.

Wheels/Casters:
For easier mobility, some items can be mounted on wheels. This is particularly useful for items made of heavy materials like steel or wrought iron.

Collapsible/Modular Design:
Outdoor furniture pieces can be disassembled or collapsed for storage and transport.

When choosing patio furniture for your outdoor space, there are many things to consider. You should consider comfort and durability, as well as appearance. When shopping for patio furniture, do you see something that grabs your attention?
Comment