Time To Transitioning Your Outdoor Space from Spring to Summer
Mar 24,2023 | Orange Casual
As spring comes to a close and hot summer days are on the horizon, revamping your outdoor space is an exciting way to celebrate the upcoming season. Finding a balance between minimalism and personalization is key to creating a cozy and practical area for the next few months. Summer is the perfect time for outdoor fun, so it's time to decorate your patio, pool, garden, and balcony. Let's have some fun outdoor playtime together!
When designing your outdoor seating area—a wonderful place to reflect nature's transitions—consider these simple tricks to transform your outdoor space with some summer aesthetics.
1. Swap out your decor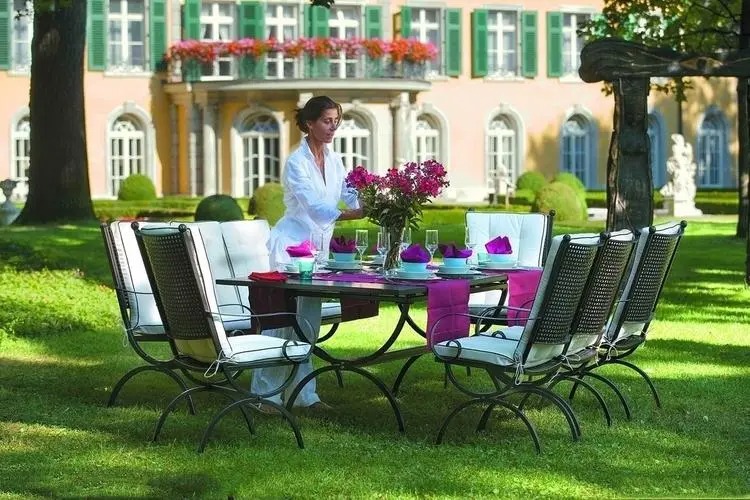 Summer is the perfect time to update your outdoor decor and create a space that's perfect for relaxing and entertaining. One easy way to freshen up your outdoor space is by changing out your throw pillows, outdoor rugs, and table linens. Choose bright, bold patterns and colors that reflect the fun and lively feeling of summer.
For your outdoor pillows, look for options in bright blues, yellows, and oranges. Try mixing and matching patterns like stripes, polka dots, and florals for a playful look. For your outdoor rug, choose a colorful option that will really make a statement. Look for patterns like chevron, geometric shapes, or even tropical prints for a fun, summery feel.
When it comes to table linens, opt for lightweight fabrics like cotton or linen in fun, bold colors. Consider adding some outdoor candles or lanterns to create a cozy atmosphere for nighttime gatherings. By swapping out these simple decor elements, you can easily transform your outdoor space into a summer oasis that you'll love spending time in all season long.
2. Add some shade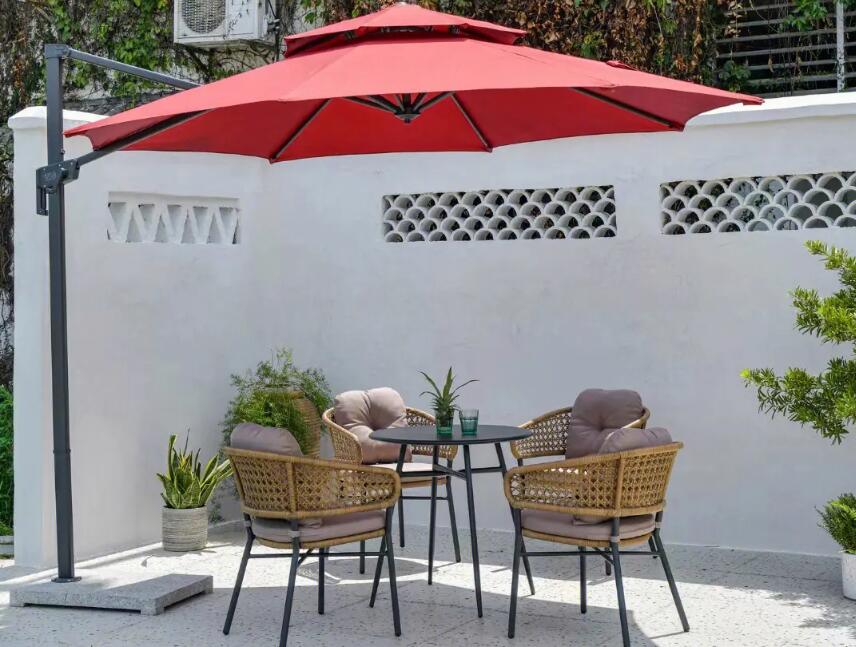 During the summer months, the sun can be quite intense, making it essential to create some shade in your outdoor space. Adding a canopy, pergola, or umbrella can provide much-needed relief from the heat and make your outdoor area more comfortable and enjoyable.
A canopy or pergola can add a stylish touch to your outdoor space while also providing shade. Consider adding climbing vines or plants to create a natural canopy that will provide even more shade and a lush, tropical feel. An umbrella is another great option that's easy to move around and adjust as needed. Look for options with UV protection to keep you and your guests safe from the sun's harmful rays.
When choosing a shade solution for your outdoor space, consider the size of the area you need to cover, as well as the style and material of the shade structure. With the right shade solution, you can enjoy your outdoor space even on the hottest summer days.
3. Set up a lounge area
There is nothing quite like the feeling of lounging in a comfortable chair after a refreshing swim on a summer day. Whether it's a poolside chaise or a cozy backyard recliner, a good chair can make all the difference. As the sun beats down and the heat rises, it's the perfect time to take a moment to relax and catch up with friends and family. The gentle sway of the chair, the soft rustle of the leaves, and the sound of laughter in the air all contribute to the idyllic atmosphere.
With a cool drink in hand and the warmth of the sun on your skin, it's easy to slip into a state of pure bliss. The cares and worries of the day fade away, replaced by a sense of contentment and relaxation. These moments of peace and tranquility are what make summer so special. So, take a seat, soak up the sunshine, and enjoy the simple pleasures of life. Get a patio chaise lounge for your pool & backyard now.
4. Incorporate plants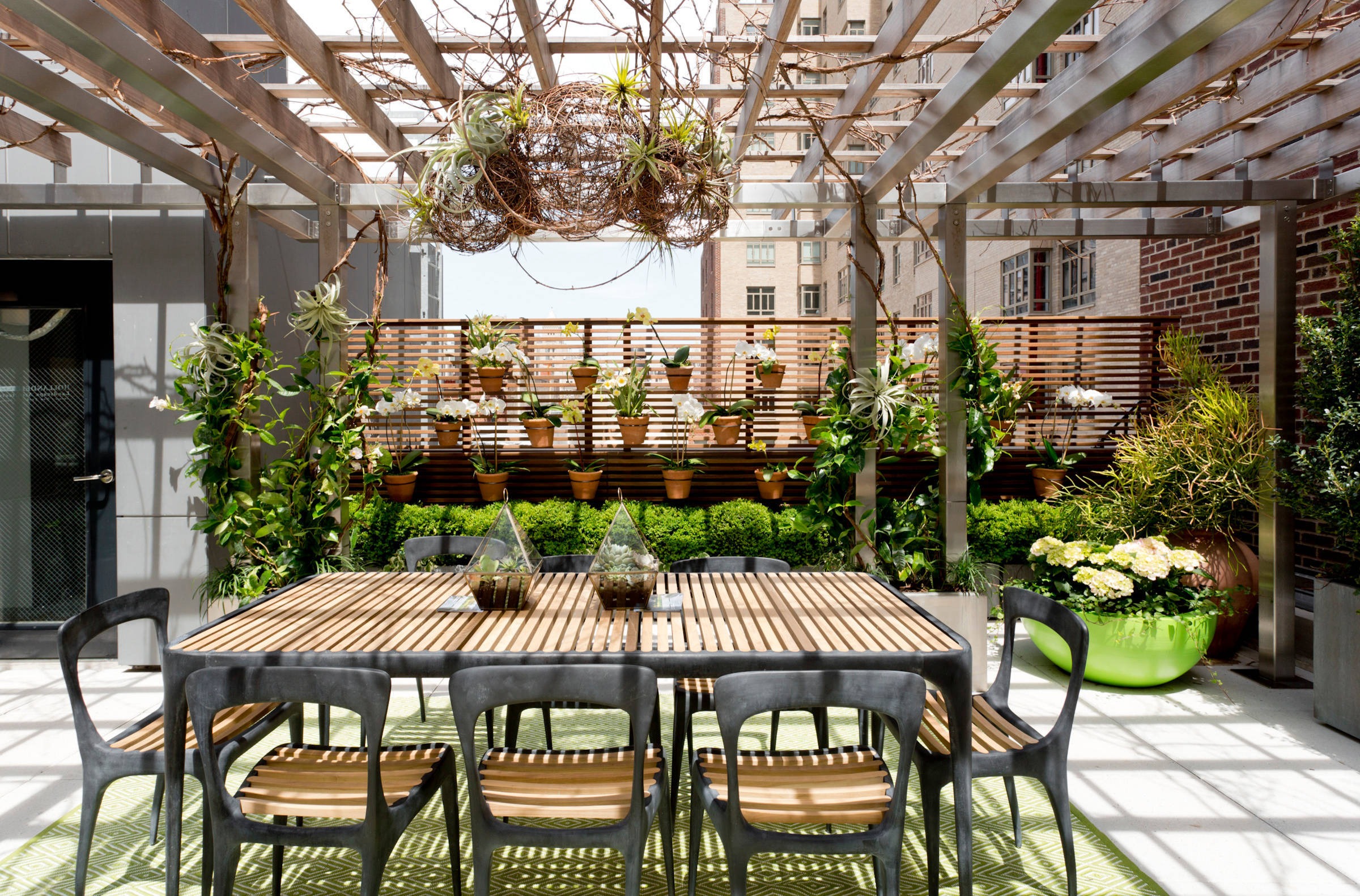 Plants are a crucial component of any outdoor space, adding vibrancy and atmosphere to the surroundings. When it comes to creating an inviting outdoor area in the scorching heat of summer, choosing the right plants is key. Succulents, cacti, and tropical plants are all great options that thrive in hot and dry conditions.
These hardy plants not only bring life and energy to your yard, but they also require minimal maintenance and water, making them an ideal choice for busy homeowners. With their unique shapes and colors, succulents and cacti add a touch of whimsy and charm to any outdoor space, while tropical plants such as palm trees and banana plants create a lush, tropical paradise vibe.
Whether you're looking to add a pop of color to your patio or create a verdant oasis in your backyard, choosing the right plants is essential. So, go ahead and let nature work its magic, and watch as your outdoor space transforms into a lush and inviting sanctuary.
5. Upgrade your lighting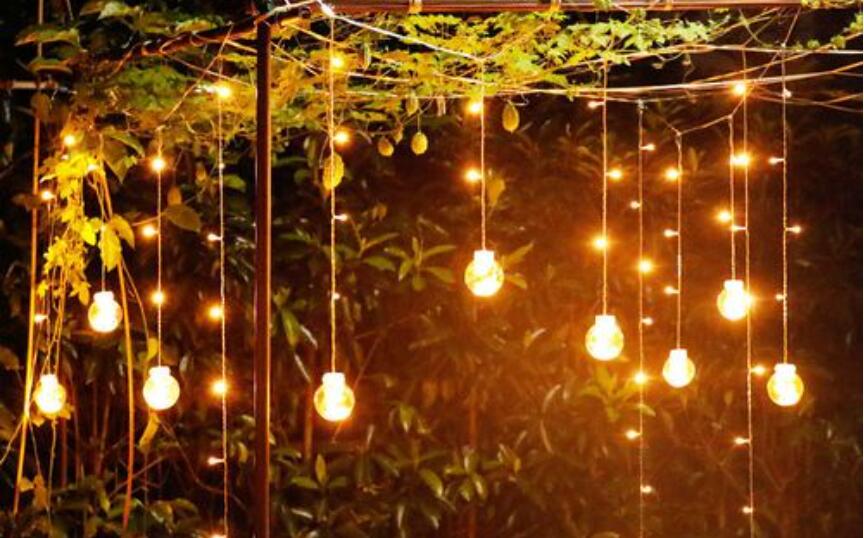 As the nights get warmer, it's natural to want to spend more time outdoors. To make the most of your evenings and create a cozy atmosphere, consider adding some string lights, lanterns, or candles to your outdoor space. These simple touches can transform your patio or garden into a magical oasis, where you can relax and unwind long after the sun has set.
String lights are a popular choice, as they add a warm and inviting glow to any space. Hang them from trees or wrap them around pillars for a festive look that's perfect for parties or intimate gatherings. Lanterns and candles also create a cozy ambiance, casting a soft and flickering light that's both soothing and romantic.
Whether you're hosting a backyard BBQ or simply enjoying a quiet evening alone, adding some outdoor lighting can elevate your experience and make your outdoor space feel like an extension of your home. So, grab a drink, kick back in your favorite chair, and bask in the warm glow of a summer evening.
---
As we move from spring to summer, it's time to transition our outdoor spaces to make the most of the warm weather. This means swapping out spring blooms for summer plants, adding outdoor lighting for evening ambiance, and investing in comfortable outdoor seating. Whether you're hosting backyard barbecues or simply enjoying a quiet evening outside, these simple changes can make a big difference in creating a cozy and inviting outdoor space. With the right combination of plants, lighting, and furnishings, you can transform your patio or garden into a magical oasis that you'll never want to leave. So, dust off your outdoor decor, grab your favorite drink, and get ready to soak up the sun in style.
Comment