Bar Height Patio Furniture - Today's Chic Trend in Outdoor Living Spaces
Mar 17,2023 | Orange Casual
If you're looking to create a stylish and functional outdoor space for entertaining or relaxing, a bar height patio set can be a great choice. A bar height patio set is a type of outdoor furniture that features a tall table and chairs, typically designed for use in outdoor spaces such as patios, decks, or balconies. Bar height patio sets are available in a variety of styles and materials, such as wood, metal, wicker, or plastic, and can be either a bistro set or a dining set.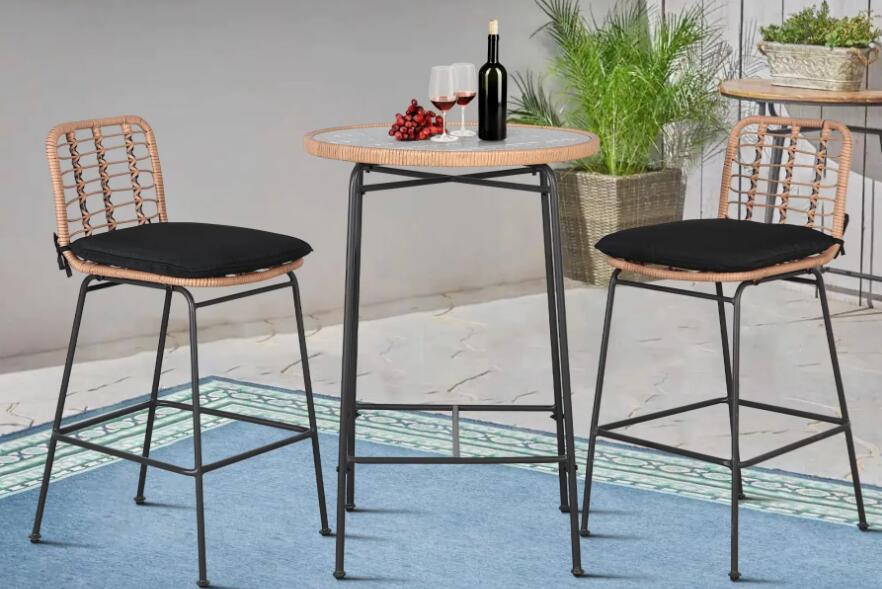 The Benefits of Bar Height Patio Sets
Improved Comfort: Bar height patio sets provide a comfortable and elevated seating option that allows you to sit and relax in a more natural posture. This can help to reduce back strain and make it easier to enjoy outdoor dining or entertaining.
Enhanced Aesthetics: Bar height patio sets often have a sleek and modern design that can complement a variety of outdoor decor styles. They can also help to create a more upscale and sophisticated atmosphere for your outdoor space.
Better Views: By sitting at a higher height, you can enjoy better views of your surroundings, whether it's your backyard, garden, or the surrounding landscape.
Space-Saving: Bar height patio sets are typically smaller and more compact than traditional dining sets, making them ideal for smaller outdoor spaces or balconies.
Versatility: Bar height patio sets can be used for a variety of purposes, such as outdoor dining, entertaining, or even as a work or study area.
Easy Maintenance: Bar height patio sets are often made of durable materials, such as aluminum or wicker, that require minimal maintenance. This makes them ideal for homeowners who want to spend more time enjoying their outdoor space and less time maintaining it.
Bar Height Bistro Sets
Bar Height Bistro Sets typically come with a small, high top table and two bar height chairs, which make them perfect for small outdoor spaces or intimate gatherings. They can also be a great addition to a larger patio or deck, providing a cozy spot for two to enjoy a cup of coffee or a glass of wine.
Top Selling Bar Height Bistro Sets 2023
1. 3pcs Aluminum Outdoor Bar Set, Square Bar Table and Two Chair
Made from premium aluminum, this outdoor bar set is durable and features an all-weather and water-resistant finish that makes it rust-resistant, ensuring it will last for years to come. The caps on the feet increase stability and protect the patio bar table set while moving, making it easy to move around and adapt to any environment.
This patio bar set is the perfect addition to any indoor or outdoor space. With its modern design, it is perfectly designed to take advantage of smaller areas, making it a great choice for restaurants, bars, pubs, bistros, coffee shops, and more. The set includes 2 barstools and 1 coffee bar table, which can easily slide under the table when not in use, saving valuable space.
2. 3pcs Wicker Patio Bistro Set
This 3-piece outdoor bar set is ideal for any patio. Complete with 2 cushioned bar chairs and 1 matched bar-height table, the set is sure to be a staple of your patio. Each piece features a steel inner frame wrapped in resin wicker for a laid-back look that doesn't mind UV light. Plus, the included detachable cushions are upholstered in a beige fabric, and pillows in multi-color stripe, providing comfort, support and style. Enjoy a balmy dinner under the stars in your own backyard with this set.
3. 2 Wicker Counter Height Stools with Round Glass Table
This patio bar set is made of hand-woven exquisite PE rattan and constructed with sturdy metal, weather resistant and stable to use. A perfect addition to any outdoor indoor entertainment, such as a party or friends gathering; Decent patterned end table with tempered glass holds your snacks, drinks and decorations up to 110 LBS; easy to clean, simply wipe clean with a damp cloth; The high-back stool comes with a built-in footrest provides a comfortable place to rest your feet and keep the chair stable.
4. Square Coffee Table & Two Wicker Bar Stools
Enjoy an intimate evening for two or just a morning enjoying coffee alone on this 3 piece set. Crafted from solid, powder-coated steel, this set includes a center table as well as 2 barstools. Durable wicker rattan is stretched across each chair's back and seat for an added layer of weather-resistant and comfort. Whether you're enjoying your favorite cocktail or your favorite novel, this set lets you enjoy the outdoors with style and ease.
Bar Height Dining Sets
If you have a larger outdoor space and love to entertain, a bar height dining set may be the perfect choice for you. These sets typically feature a tall table and four to six chairs, and are perfect for outdoor dining and socializing.
Top Selling Bar Height Dining Sets 2023
1. 5pcs Outdoor Aluminum Bar Height Patio Dining Set
Made from premium aluminum, all weather and water-resistant finish, the outdoor bar set is rust-resistant which will further extend the life of your product with families or friends. The rectangle bar table is designed to be not only used as a pub table but also a bar height dining table. Modern aluminum finishing takes this bar stool set to the next level, perfect for sunrooms, patios & indoor bars. With a lightweight and stable frame, the outdoor bar stool is compact and its space-saving design can be carried easily.
If you're not looking to purchase an entire bar height patio set, you can also opt for individual bar height stools. These stools can be used both indoors and outdoors, and are much more comfortable than regular chairs.
Bar height stools are designed to be taller than traditional chairs, making them ideal for use at bars, counters, and other high surfaces. They are often equipped with footrests, which provide added comfort and support while sitting.
Overall, a bar-height patio set is a smart investment that will enhance your outdoor living space and provide you with years of comfortable and stylish seating. There is a vast selection of styles and materials available to suit your preferences and complement your personal style. So go ahead and choose the set that speaks to you, and start enjoying all the benefits of outdoor living!
Comment