When is it Time to Replace Your Outdoor Patio Furniture?
Mar 10,2023 | Orange Casual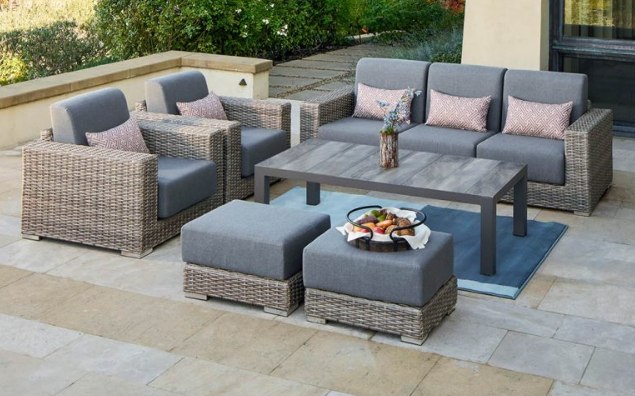 As the warm season approaches, people start spending more time on their patios and begin considering utilizing their outdoor furniture. However, after a harsh winter, if you did not properly protect and store your patio furniture, it may have suffered significant damage. When your patio furniture reaches the point of being irreparable, it may be time to invest in new products. But when should you replace your outdoor patio furniture?
Investing in quality patio furniture can provide you with years of enjoyment, especially if you consistently maintain it. Minor stains on cushions or initial signs of rust can be easily addressed with proper care. However, it's essential to periodically evaluate the overall condition of your outdoor furniture to determine whether it needs to be repaired or replaced. With regular cleaning, timely repairs, and proper storage during inclement weather, you can extend the lifespan of your outdoor furniture. However, if the furniture is showing significant signs of wear and tear, such as severe rust, cracks, or discoloration, it may be time to consider investing in new pieces. Ultimately, taking care of your outdoor furniture and knowing when to replace it can help you make the most out of your investment and enjoy your outdoor living space to the fullest.
Here are some signs that it may be time to replace your outdoor furniture:
Visible Damage: If your outdoor furniture is showing visible damage such as rust, cracks, or severe discoloration, it may be time to replace it.
Uncomfortable: If your outdoor furniture is no longer comfortable to sit on, it's time to consider replacement.
Fading: If your outdoor furniture has faded due to prolonged sun exposure, it may be time to replace it.
Safety Concerns: If your outdoor furniture is no longer safe to use due to structural damage or instability, it's important to replace it immediately.
Outdated Style: If your outdoor furniture is outdated and no longer matches your personal style or the overall design of your home, it may be time for an upgrade.
When to Buy Patio Furniture?
There are a few general times of the year when you can find good deals on outdoor furniture:
End of Season Sales: At the end of the summer season, many retailers offer discounts on outdoor furniture to clear their inventory for fall and winter merchandise. This is a great opportunity to find deals on high-quality patio furniture. Especially during winter, which is the off-season for outdoor furniture, you have a good chance to find some great bargains.
Pre-Season Sales: Some retailers offer pre-season sales on outdoor furniture in early spring, which is a great opportunity to find new designs and styles at discounted prices. For example, starting in March every year, it's already the peak season for outdoor furniture, and many businesses begin presales with significant discounts. Preparing your outdoor space early can help you anticipate the arrival of summer.
Holiday Sales: Major holidays like Women's Day, Easter, Memorial Day, Labor Day, and the Fourth of July are often accompanied by sales on patio furniture. You may be able to find good deals during these holiday weekends. To celebrate this women's day, Orange-Casual is holding a site-wide promotion with a 15% discount on all products. Use the code "EMPOWER2023" at checkout to take advantage of this offer.
Online Sales: Many retailers offer online sales throughout the year, including on outdoor furniture. Be sure to sign up for email newsletters or follow your favorite retailers on social media to stay updated on upcoming sales.
---
As the warm spring season approaches, it may be time to consider upgrading your patio furniture. Orange-Casual offers a wide selection of high-quality outdoor furniture to elevate your outdoor living space. Whether you're looking for a brand new multiple piece seating set, outdoor sofa, or patio dining set, each of Orange-Casual's affordable luxury collections has something unique to offer your home. Don't wait any longer to invest in new outdoor furniture and make the most out of the upcoming season. Browse Orange-Casual's collections today and discover the perfect pieces to suit your style and needs.
Comment