Best Affordable Outdoor Sectionals 2023
Apr 11,2023 | Orange Casual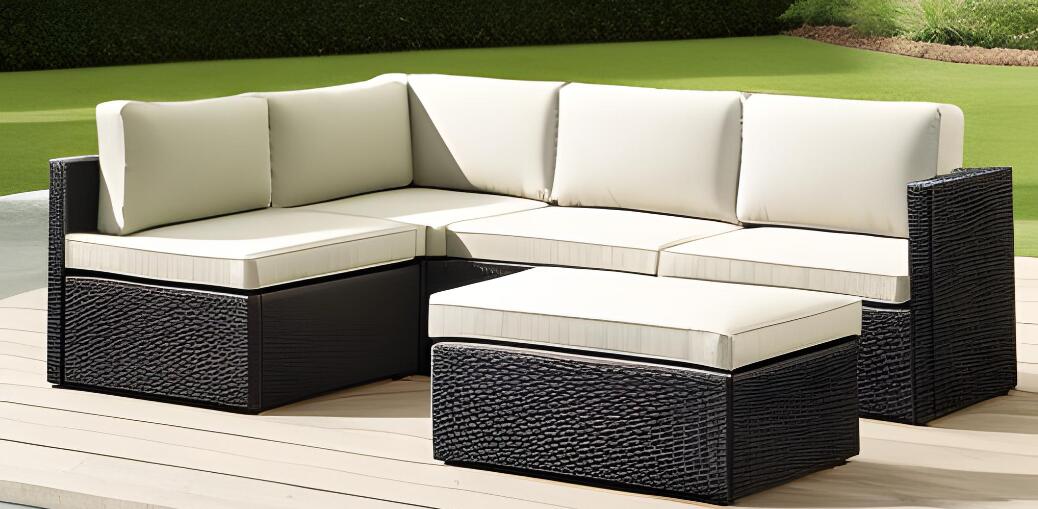 Outdoor sectionals have been a popular choice for outdoor seating for several years and are likely to continue to be so in the future. Outdoor sectionals are plush and comfortable. They provide ample seating for groups of people, and their modular design allows for flexibility in arranging them to fit different outdoor spaces.
How to understand outdoor sectionals?
They derive their name from the fact that they can be sectioned off and have a seating arrangement. Most pieces of outdoor sectional furniture come in sets of 4-7 individual pieces. Outdoor sectionals are often L-shaped, U-shaped and half-moon, making them perfect for corner spaces and large outdoor areas with lots of space. Different shapes of sectional sofas will have different experiences in use. The sections may be grouped together to form a single whole or the sections may be broken and placed in an artful manner to create an interesting deviation from the expected. In fact, the flexibility offered by sectionals is amazing because homeowners may now configure individual sections to meet the demands of space and shape of the room.
There are various materials available for outdoor sectionals, including willow, wood, metal, and more, and there are also various styles to choose from to meet different design preferences. However, outdoor sectionals vary greatly in durability, price, and comfort, among other factors. To help you find the perfect choice for your garden, porch, pool area and balcony, we collect the best outdoor sectionals in 2023 for every budgets, aesthetics, and lifestyles.
1. Wicker Outdoor Curved Sectionals, Half Moon Design, 4 Colors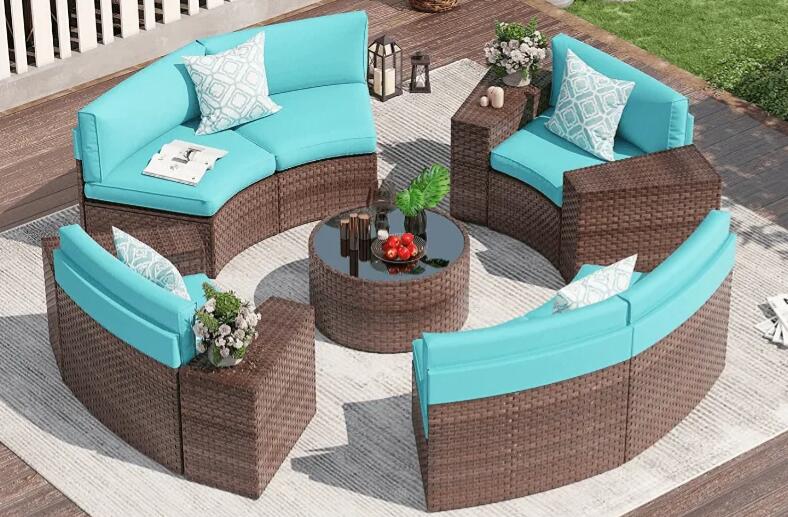 Budget: $900-$2000, for 4-8 people
The curved sofa is a very unique design, rare in the market, this curved sectional comes with a half-moon design, premium olefin fabric, and handcrafted all-weather wicker. The elegant synthetic wicker is handwoven into complex patterns that give the patio furniture set its refined look.
If you're looking for the best outdoor sectionals within your budget for 2023, the Wicker Outdoor Curved Sectionals in Half Moon Design, available in 4 different colors, are a great option. These sectionals come in a 5-piece set for under $1000, making them a budget-friendly choice. However, if you have a big family or a large patio, you can also opt for the 13-piece set, which seats 8 people and costs only $2000. The half-moon design of these sectionals adds a touch of elegance to your outdoor space while providing comfortable seating for your guests.
2. Adonis All-Weather Wicker Outdoor Sectionals, L-shaped/U-shaped, 4 Colors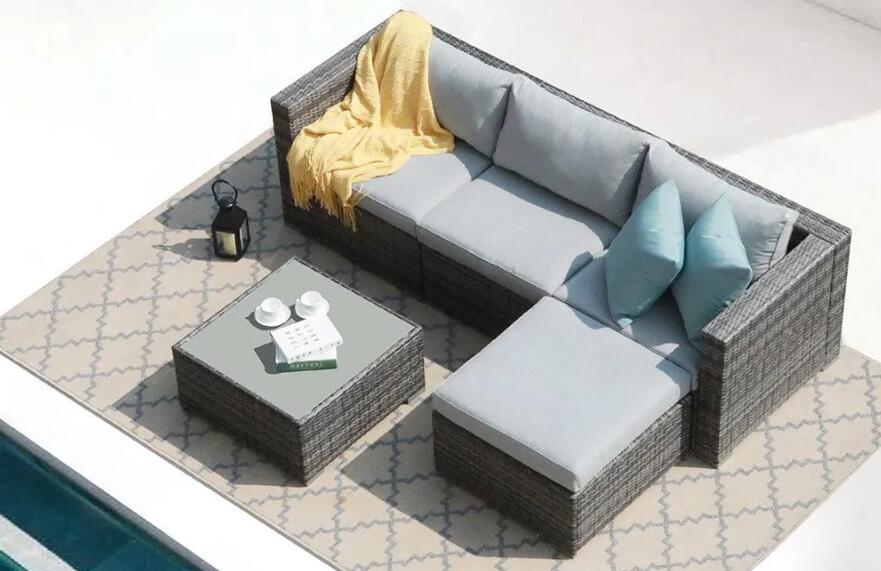 Budget: $200-$1000, for 2-8 people
Best outdoor sectional: Adonis collection. The Adonis outdoor sectional sofa collection is the epitome of luxury and comfort. Comprised of individual square-shaped seats, this collection offers multiple configurations to suit any outdoor space. For those with a budget of $200, the 2pc Outdoor Armless Sofa is an excellent option, and this 5-pcs sectional set can be combined to create a simple L-shaped sectional and includes a square coffee table, all for under $600. If a larger U-shaped sectional is desired, the 10-piece sectional set is the perfect solution, accommodating up to 8 people. Priced at only $2000, this set provides both style and comfort for any outdoor gathering.
3. 5 Seating Aluminum Outdoor Sectionals, 2 Colors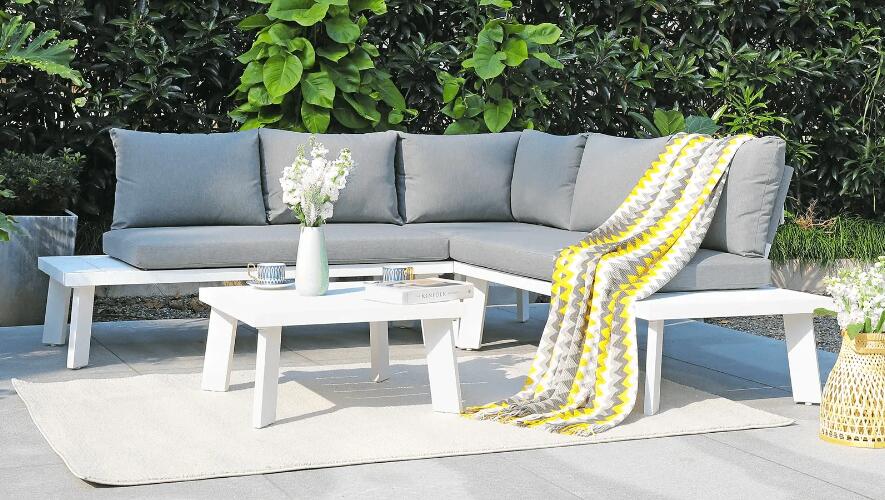 Budget: $800-$900, for 4-5 people
This sectional sofa is one of the best outdoor sectionals in 2023 due to its superior features. It is made of rust-resistant and durable aluminum, which forms a lightweight yet sturdy framework. The patio seating is made of a strap mesh material, making the outdoor sectional both flexible and supportive, promoting airflow and keeping you cool in hot weather. Comparable aluminum outdoor sectionals on the market are selling for over $1500, but at Orange-Casual, you can get an all-weather, ultra-lightweight aluminum outdoor sofa set with an aluminum coffee table for less than $900.
If these top 3 outdoor sectionals 2023 don't meet your needs, don't worry! There are plenty of other styles to explore here. Whether you're looking for a particular material, color, size, or shape, you're sure to find an outdoor sectional that fits your preferences and budget. From classic and traditional to modern and contemporary designs, there's something for everyone. And with new arrivals and seasonal sales, you can always find a great deal on the perfect outdoor sectional for your patio, deck, or backyard. So go ahead and browse our extensive selection today and find the perfect outdoor sectional for your outdoor living space!
Comment