Top 5 Circular Patio Ideas 2023
Apr 08,2023 | Orange Casual
If you have a circular patio, how do you plan to design it? Designing a circular patio can be an exciting project, as it provides ample opportunities for creativity and personal expression.
Circular patios are versatile and can be incorporated into any garden style, whether it's a modern, minimalist space or a lush, green oasis. The circular shape of the patio can provide a harmonious contrast to the angular lines of garden beds and paths, creating a sense of balance and symmetry. The choice of materials for the circular patio can also play a significant role in defining the overall style of the garden. For example, a patio made of natural stone can lend a rustic and organic feel, while a concrete or brick patio can offer a more contemporary look. The texture and color of the materials used can also add depth and interest to the patio. By choosing the right materials, a circular patio can become a beautiful and functional element in any garden design.
Here are a few ideas to consider when designing a circular patio:
1. Curved Outdoor Sofas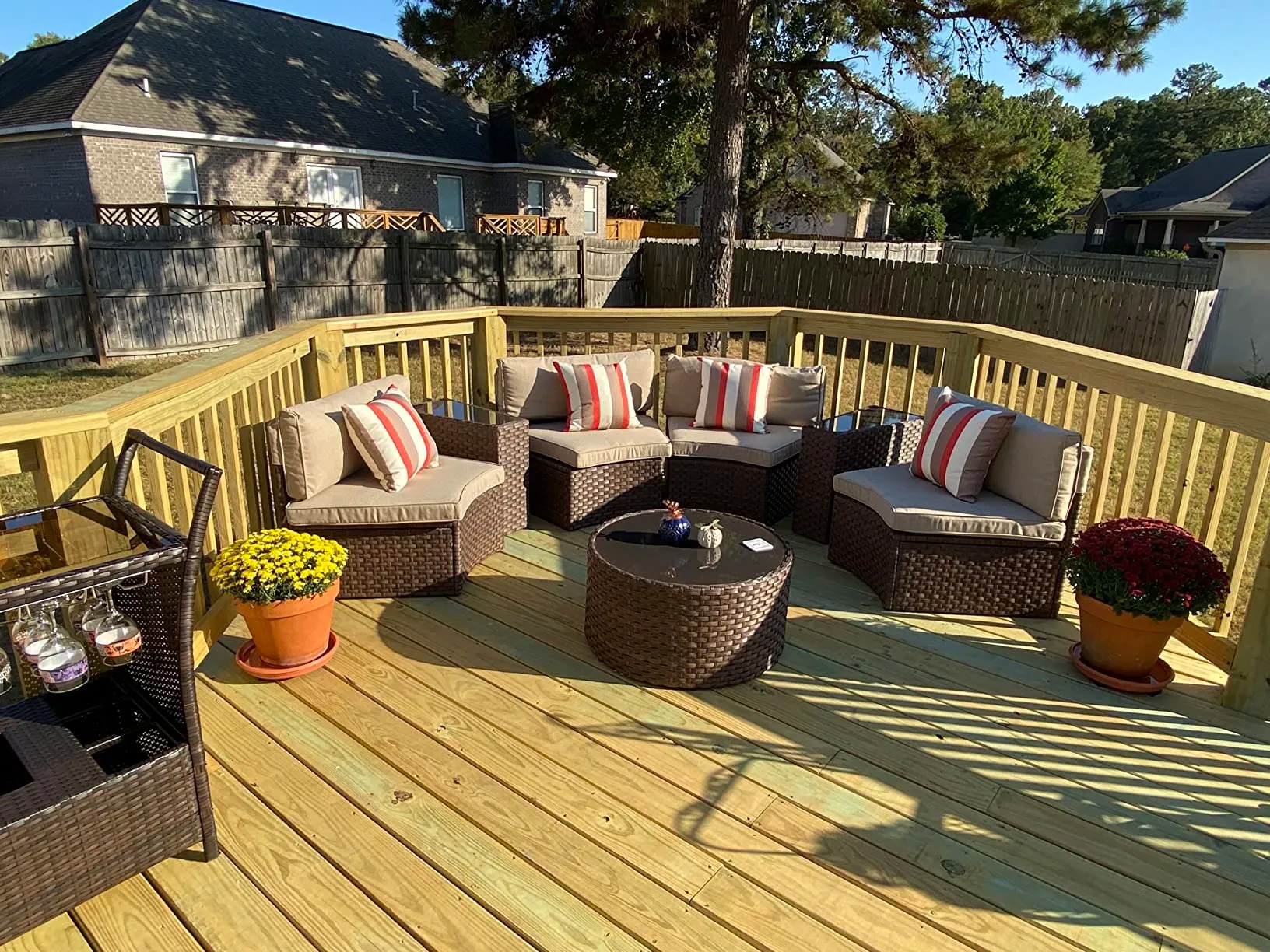 When it comes to designing an outdoor space, choosing the right furniture and layout is crucial for creating a comfortable and inviting atmosphere. Curved outdoor sofas are a popular choice for many homeowners as they offer a cozy and intimate seating arrangement for gatherings with friends and family. And when paired with a circular patio, the combination creates a seamless flow and visual harmony, enhancing the overall look and feel of the outdoor space. The circular shape of the patio also encourages conversation and interaction among guests, making it a great choice for entertaining. Whether you're looking to relax in the sun or host a dinner party, a curved outdoor sofa and circular patio is a match made in outdoor design heaven.
2. Outdoor Dining Furniture with Round Table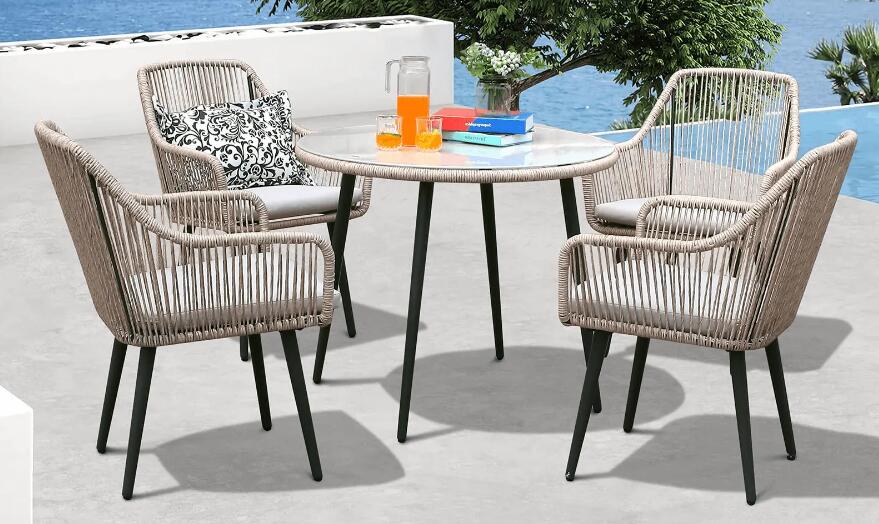 This 4-person dining set is also perfect for a circular courtyard, paired with a round table and four rattan chairs. The round table features elegant tapered legs and hand-woven rattan, making it the ideal outdoor table for up to four people. With its tempered glass top and 2" umbrella hole design, this outdoor table is a wonderful addition to any outdoor space.
3. Patio Bistro Set with Rocking Chairs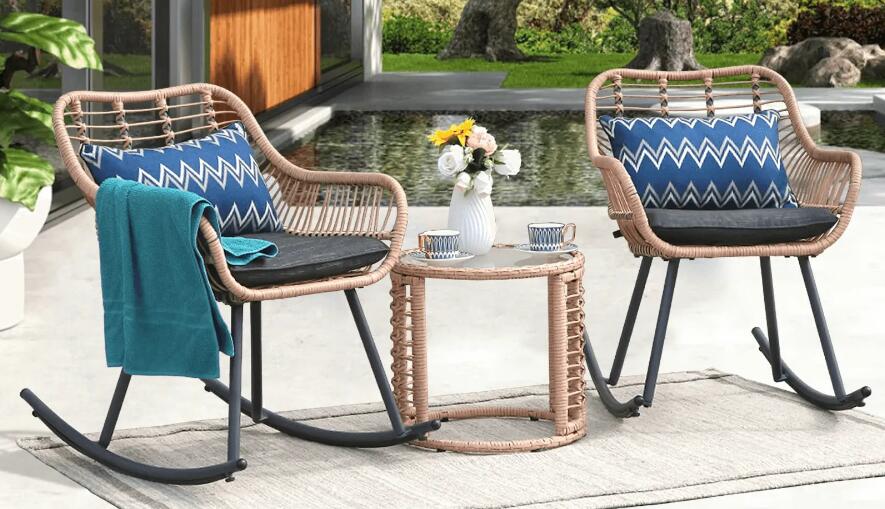 This Rocking Chair Bistro Set is perfect for small spaces and enjoying a relaxing evening with your loved one in the yard. This patio wicker conversation chairs set features a unique rocking design that provides a smooth and steady rocking motion, so you don't need to worry about falling off the chair while enjoying your time. It is suitable for any shape of courtyard, whether it's a circular or irregularly shaped square, making it the best complement to your outdoor space.
4. Patio Round Umbrella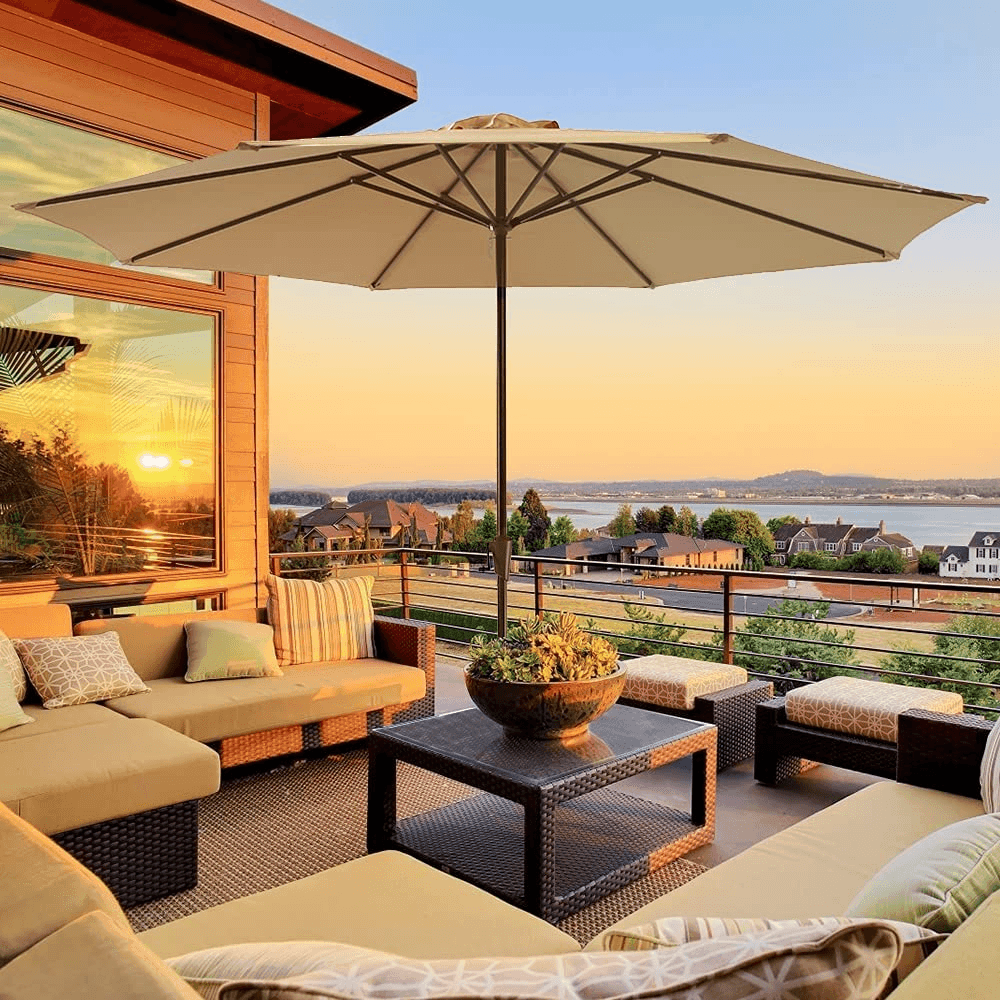 Summer is here and what better way to enjoy it than with a round patio umbrella to complement your circular courtyard? This 11-foot patio umbrella comes with a locking pin, strap, and air vent to provide stability and security. The umbrella's frame is made of sturdy, rust-free powder-coated pole and 8 steel ribs. It is perfect for providing shade in any outdoor area, including gardens, lawns, decks, backyards, beaches, and more. It also makes an ideal gift for family and friends. Please remember to pair your umbrella with a base, and I recommend the Heavy-Duty Umbrella Base with Wheels.
5. Hanging Egg Chair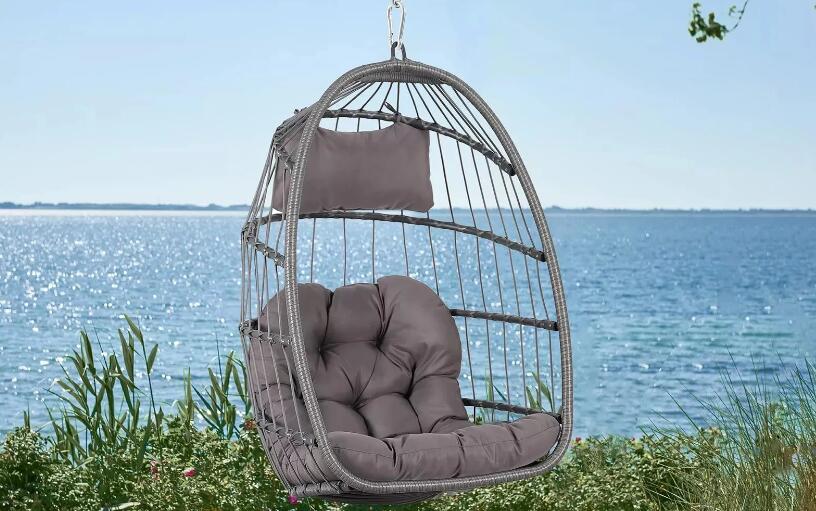 The Hanging Egg Chair is an excellent addition to a Circular Patio, as it is inspired by the egg shape, which gives it a classic and distinctive design that enhances the outdoor space's decor. This swing chair has a steel frame with E-coating and an alum frame for the seat plate, which is covered with premium PE Rattan. The back of the chair is made of polyester ropes. All of these components ensure that the chair is both weather-resistant and comfortably stylish. A furniture cover is included as a gift to protect the chair from various weather conditions.
Circular patios offer a wide range of possibilities when it comes to designing an outdoor space that is both functional and stylish. From fire pits to water features, there are endless options to choose from when creating a circular patio.
Comment