Colorful Outdoor Furniture - Bringing Joy to Your Outdoor Space
Apr 14,2023 | Orange Casual
Are you tired of dull and uninspiring outdoor furniture? Don't settle for boring when you can inject a burst of color and personality into your outdoor space! Orange-Casual's vibrant collection of colorful outdoor furniture is the perfect solution to elevate your balcony, patio, or poolside. With a bold and playful statement, you can transform your outdoor area and bring joy to your world. Life is too short for boring furniture, so why not add a pop of color and make your outdoor space truly stand out?
Add color to your world with our vibrant outdoor pieces!
1. Wicker Outdoor Curved Sofas with Turquoise Cushions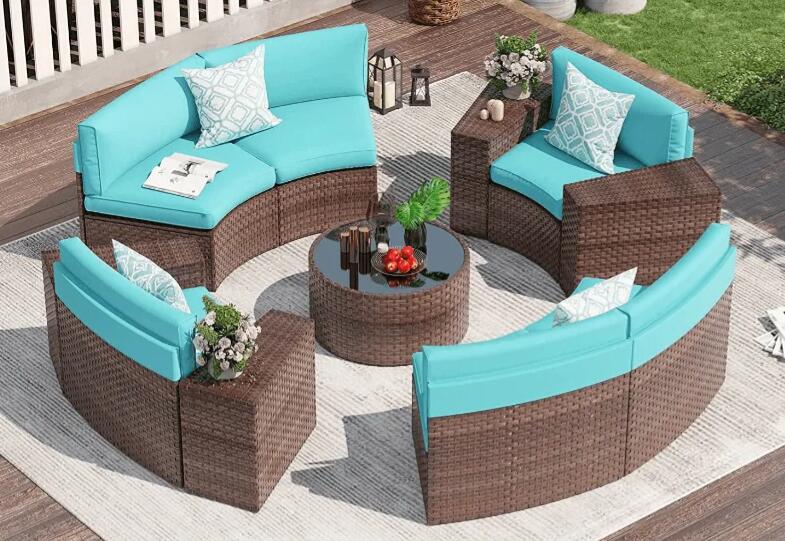 This Curved Sofa features a half-moon design, premium olefin fabric, and handcrafted all-weather wicker. The Turquoise-colored cushions add a relaxing touch, and all cushions come with zippers for easy removal. Striped throw pillows are also included. If you're a fan of colorful outdoor furniture, you definitely don't want to miss out on this Turquoise Curved Sofa Set.
2. Wicker Outdoor Sectionals with Orange Cushions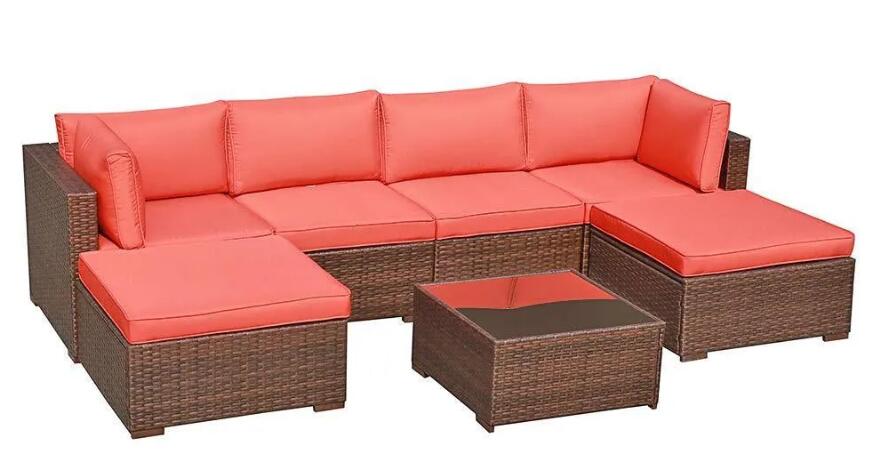 When it comes to designing outdoor spaces, color plays a crucial role in creating a cohesive and inviting environment. Orange, in particular, is a bold and vibrant color that can add warmth and energy to any outdoor space.
In the context of orange wicker outdoor sectionals, the color can be used to create a statement piece that becomes the focal point of the patio or garden. Orange can be paired with a range of other colors, including neutral tones like beige and gray, as well as complementary colors like blue and green.
The choice of orange as the primary color for a wicker outdoor sectional can be seen as an expression of creativity and a desire to stand out from the crowd. It can also evoke feelings of joy, enthusiasm, and playfulness, making it an ideal choice for social spaces where people come together to relax and unwind.
Look beautiful on your patio and add color to your outdoor living. Modular seating pieces can be moved and rearranged into different combinations to fit your patio. Cushions filled with 4 inches thick high resilience sponge, will not collapse. With zipper for easy cleaning and replacement. Shop this Patio Sofa Set with Orange Cushions
3. 3pcs Teal Cast Aluminum Patio Bistro Set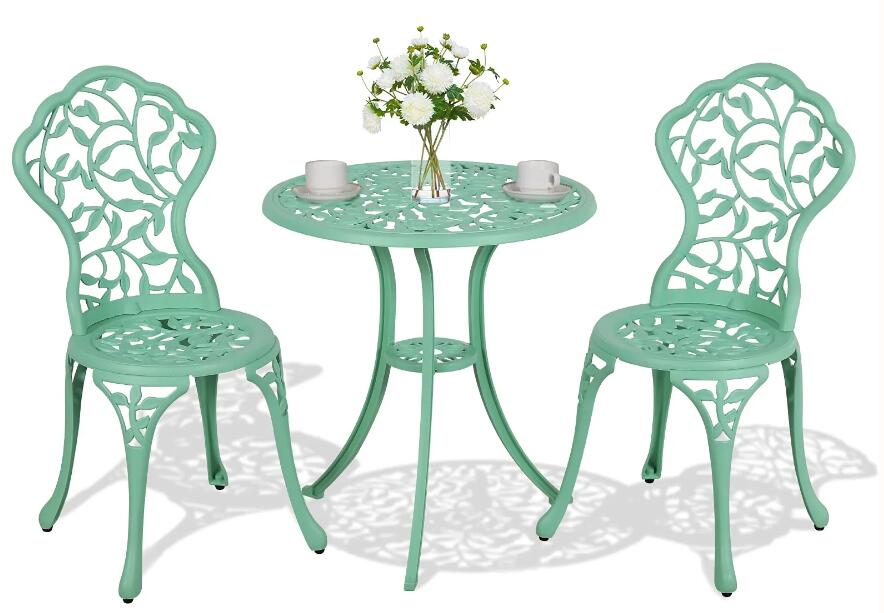 The Teal Patio Bistro Set is a beautiful addition to any outdoor space, with its striking shade of blue-green that evokes feelings of calm and tranquility. As a color, teal is a blend of blue and green, representing a balance between the calming effects of blue and the rejuvenating energy of green.
In terms of color design, the Teal Patio Bistro Set can serve as the focal point of an outdoor seating area or be used to complement other colors and design elements. It pairs well with neutral tones such as beige or gray, as well as with warm colors like yellow or orange for a more vibrant look.
Teal also has a versatile nature that makes it suitable for a variety of design styles, from modern and contemporary to bohemian and eclectic. Its soothing properties make it ideal for creating a serene and peaceful ambiance, which is especially important in outdoor spaces where relaxation and comfort are key.
Made of strong cast aluminum with rust & weather-resistant finish, the 3-piece teal patio bistro set is durable but lightweight. The sturdy frame helps ensure that the outdoor bistro table and chair set lasts for several years.
4. Aluminum Outdoor Folding Sling Chairs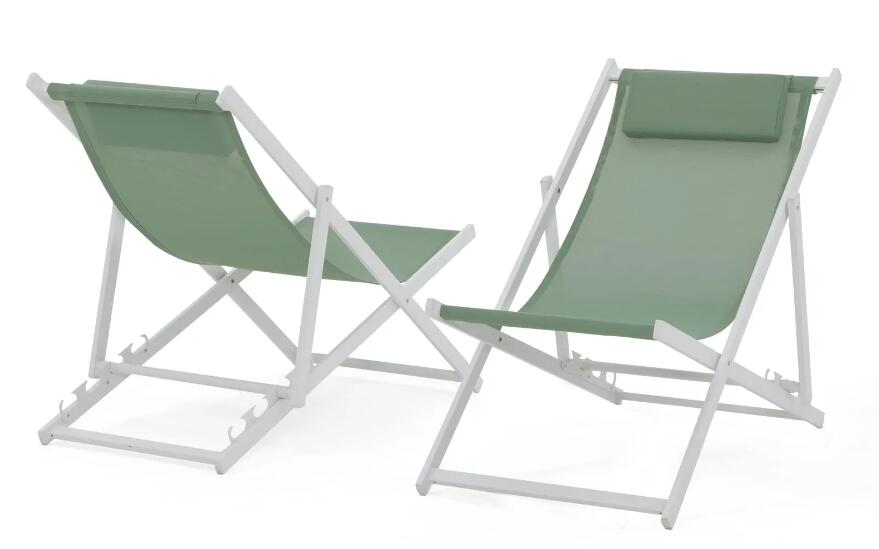 The White Frame with Green Canvas Outdoor Folding Sling Chairs embodies a design philosophy that celebrates the beauty and simplicity of natural colors. The crisp white frame represents purity, cleanliness, and a modern aesthetic, while the green canvas evokes a sense of vitality, growth, and connection to the outdoors.
This color combination creates a refreshing and inviting atmosphere that seamlessly blends with the natural environment, making it a perfect addition to any outdoor space. The green canvas adds a pop of color that complements the white frame, creating a balance between elegance and playfulness.
Green Outdoor Folding Sling Chairs is a testament to the power of color and its ability to transform a space into a comfortable and inviting oasis. Ergonomically designed with an adjustable backrest in 4 positions for reading, sleeping, and sunbathing, allowing you to choose positions of personalized comfort. lying on this lounge chair would beat the physical as well as mental fatigue to a great extent. 3 colors available, Shop these 2pcs Portable Lounge Chairs.
5. Tiffany Blue Hanging Chair with Stand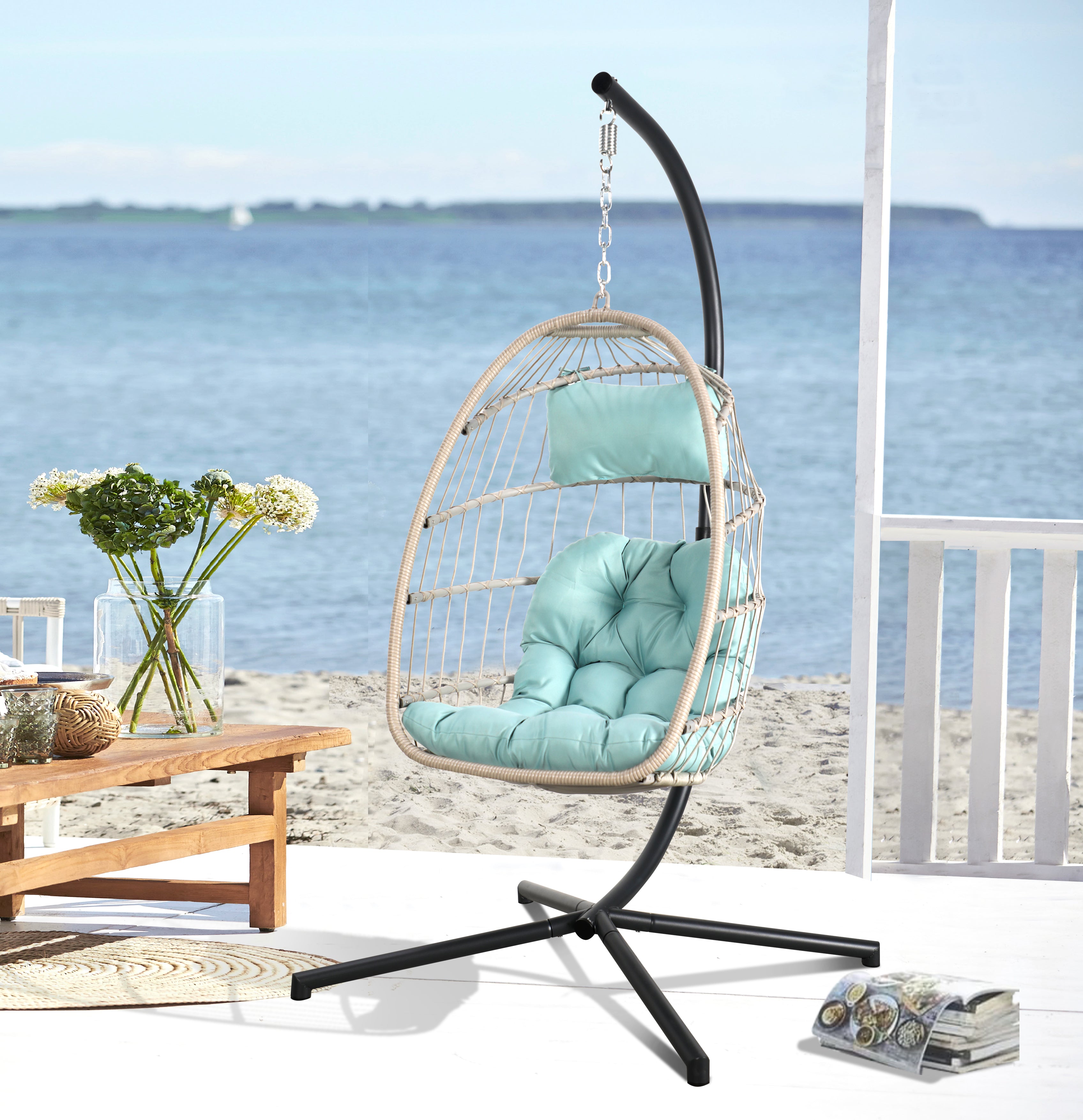 Tiffany Blue color a light blue color that is often associated with elegance and sophistication. The Tiffany Blue Hanging Chair with Stand is a popular choice for those looking to add a stylish and comfortable seating option to their home or outdoor living space. It can be used as a standalone piece or paired with other outdoor furniture to create a cozy and inviting outdoor oasis. 5 colors are available, shop this hanging egg chair.
6. Patio Umbrella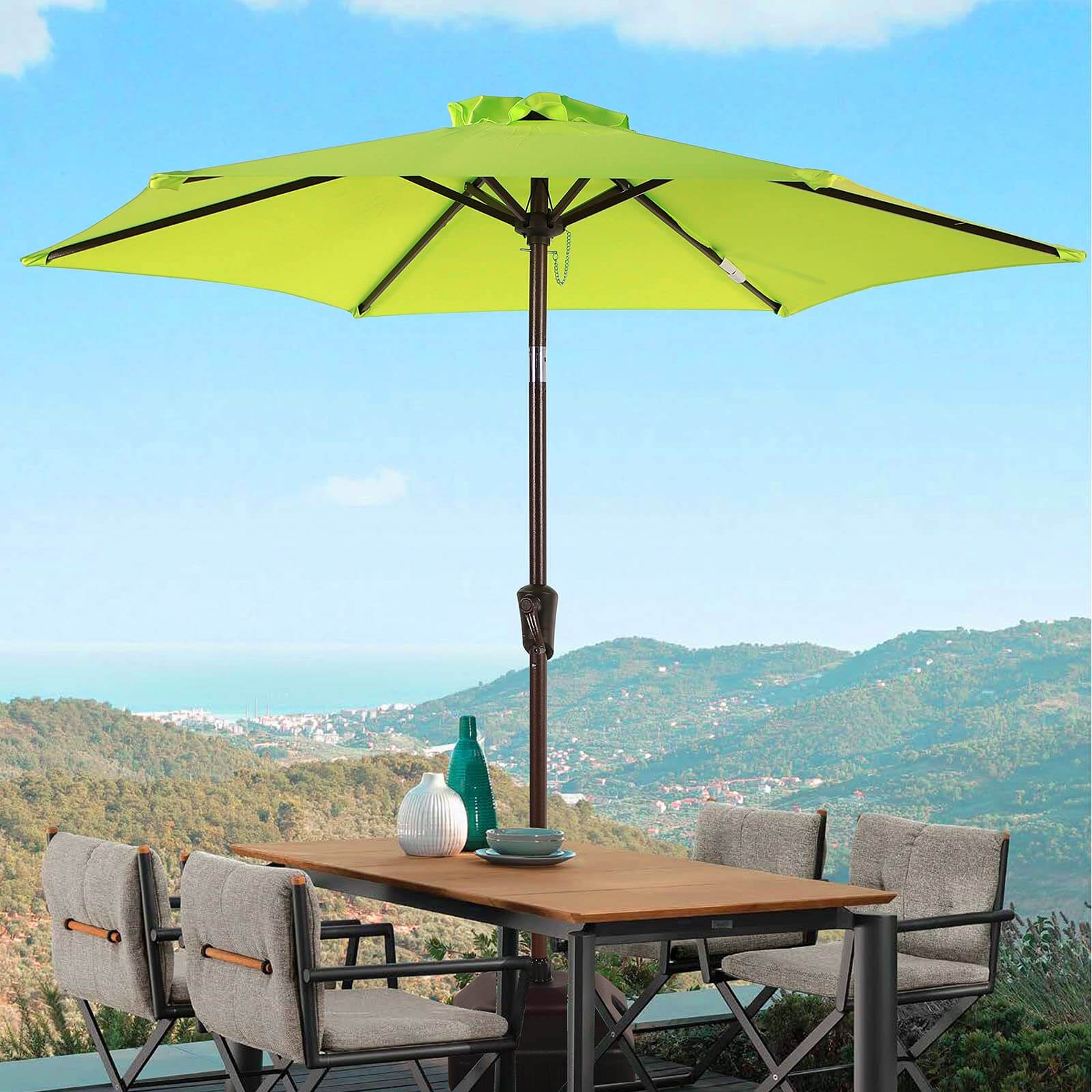 The Patio Umbrella is another fantastic addition to our Colorful Outdoor Furniture line. With a variety of color options to choose from, this outdoor essential is a must-have for every household. Our umbrellas come in round, rectangular, and half shapes to fit any outdoor space. Whether you're looking to match it with your existing outdoor furniture or add a pop of color to your patio, this patio umbrella will do the trick. Not only does it provide shade on sunny days, but it also protects you from the rain during unexpected showers. Don't miss out on the opportunity to elevate your outdoor living with our Patio Umbrella.
Whether you're looking for a cozy seating area, a dining set for entertaining, or a lounge chair to relax in, we've got you covered. With our Colorful Outdoor Furniture, you can transform your outdoor space into a vibrant and inviting retreat that reflects your personal style. Don't wait any longer to enhance your outdoor living with our high-quality and affordable outdoor furniture.
Create your own Colorful outdoor space with our Colorful Outdoor Furniture, high-value outdoor pieces that you deserve to have. Our furniture combines stylish design with durable materials to provide a comfortable and long-lasting outdoor experience. Visit More Here: https://www.orange-casual.com/collections/outdoor-furniture
Comment