How is Synthetic Resin Wicker Furniture Made?
Feb 21,2023 | Orange Casual
Synthetic resin wicker furniture is a popular choice for outdoor furniture because of its durability and resistance to the elements. Unlike natural wicker, which is made from weaving together natural plant fibers, synthetic resin wicker is made from a variety of synthetic materials, such as polyethylene, polypropylene, or PVC.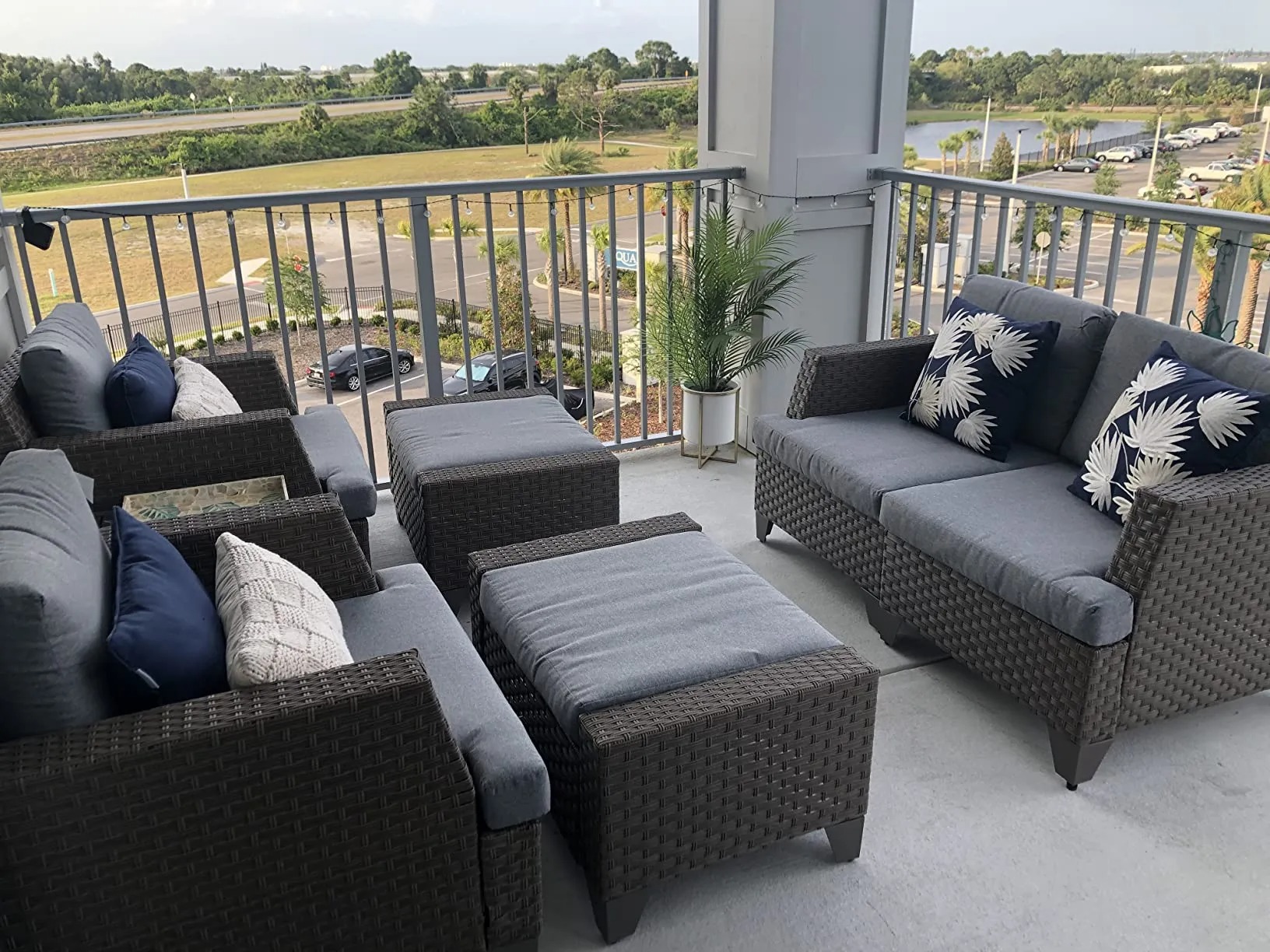 The manufacturing process for synthetic resin wicker furniture typically involves the following steps:
1. Extrusion: The first step in the process is to create the raw material for the wicker. This is done by melting the synthetic resin pellets and then extruding them through a die to create long, thin strands of material.
2. Cooling: After the extrusion process, the strands of material are cooled quickly to set the shape and size of the strands.
3. Weaving: The cooled strands of material are then woven together to create the wicker material. This can be done by hand or by using machines.
4. Shaping: Once the wicker material has been created, it is cut and shaped to fit the desired furniture design. This may involve bending or molding the material to fit the curves of the furniture.
5. Frame construction: The wicker material is then attached to a frame made of aluminum, steel, or other materials. The frame provides the structure and support for the furniture.
6. Finishing: The final step in the process is to add any finishing touches, such as cushions, glass tops, or other accessories, to complete the furniture.
There are several advantages to using synthetic resin wicker for outdoor furniture. One of the main advantages is its durability. Synthetic resin wicker is resistant to the elements, including sun, rain, and snow. It is also resistant to mold, mildew, and insects, which can be a problem with natural wicker.
Another advantage of synthetic resin wicker is that it is easy to clean and maintain. Unlike natural wicker, which can be difficult to clean, synthetic resin wicker can be easily wiped down with a damp cloth or hosed off with water.
Read More: 10 Benefits of Resin Wicker Outdoor Furniture
In addition, synthetic resin wicker is available in a variety of colors and styles, making it a versatile choice for outdoor furniture. It can be made to look like natural wicker, or it can be made in bold, modern designs.
If you're considering embarking on a wicker furniture making project, it's important to acquaint yourself with the intricacies of weaving the materials. Weaving can be a complex process that takes time to master. If you don't have the necessary time to devote to wicker production, it may be more prudent to purchase your furniture from an established company with years of experience in wicker furniture production. This will ensure that you get high-quality furniture without having to invest the significant amount of time required to become proficient in the art of weaving.
Based on the marketing trends and customer's needs, Orange-Casual has produced high-quality, architectual, luxurious outdoor furniture set for 20 years. Orange-Casual now provides a series of outdoor curved sofa sets, wicker sectionals, bistro sets and aluminum furniture, which are produced by own factory.
Comment