What Is Modular Outdoor Furniture & Why Choose it?
Mar 03,2023 | Orange Casual
Outdoor living spaces can vary greatly in shape and size, with each space tailored to suit the homeowner's individual style and preferences. Therefore, it's no surprise that homeowners often seek unique and distinctive furniture designs that complement their outdoor spaces. Modular patio furniture offers an innovative design that balances durability with style, making it an excellent choice for those looking to create a completely new outdoor living space. With its flexibility and versatility, modular patio furniture allows for a range of configurations to suit different occasions and accommodate varying numbers of guests. Whether you prefer wicker, metal, wood, or plastic materials, there is a modular patio furniture set that can meet your needs while adding a touch of style to your outdoor living space.
What is modular patio furniture?
Modular patio furniture refers to outdoor furniture that is designed to be flexible and customizable. It typically consists of multiple pieces that can be arranged and reconfigured in various ways to suit the user's needs and preferences. Modular patio furniture sets typically include pieces such as corner units, armless chairs, ottomans, and tables that can be combined to create a range of seating and lounging options. This versatility makes modular patio furniture an excellent choice for outdoor spaces of all sizes, as users can rearrange the pieces to accommodate different numbers of guests or create different seating arrangements for different occasions.
When placed together, a modular seating set can create a multi-person couch, but when broken apart, separate seats emerge, organizing an arrangement with several individual seats. Most importantly, the overall aesthetic of a modular patio set maintains its grace whether connected or apart.
Why Choose Modular Outdoor Furniture?
Modular outdoor furniture has gained popularity in recent years due to its numerous advantages. One of the key benefits is its flexibility and versatility. With modular furniture, you can easily customize and reconfigure your outdoor space to suit your changing needs and preferences. Additionally, modular outdoor furniture is typically designed with durability in mind, meaning it can withstand harsh weather conditions and last for many years. Finally, many modular furniture sets are made from eco-friendly materials, making them a sustainable and responsible choice for outdoor living.
The Benefits of Modular Outdoor Furniture
1. Adaptability
The most apparent advantage of modular furniture is its adaptability. With modular pieces, there is no need to replace your entire outdoor furniture set to accommodate changes in your living situation. Whether you need to make more space for a growing family, move to a new home with a smaller or larger outdoor area, or simply want to refresh your design aesthetic, modular furniture can be easily reorganized and rearranged. Unlike traditional outdoor furniture sets, modular designs can be configured to accommodate both entertainment and relaxation, making it easy to switch between hosting large gatherings or enjoying quiet solitude. The flexibility of modular furniture means that it can be arranged in a compact or expansive layout, depending on your needs, providing ample space for guests to relax and unwind without feeling cramped.
2. Sustainability
Modular furniture is an excellent sustainable option for your outdoor space, as it eliminates the need to discard and replace furniture to achieve a new design or meet changing needs. By rearranging the existing pieces, you can create fresh furniture shapes and patio layouts that perfectly suit your evolving style and requirements. This level of adaptability reduces waste, maximizes the use of existing materials, and eliminates the need to dispose of furniture that is still in good condition but no longer fits your space. With modular furniture, you can create a functional and visually appealing outdoor setup that delivers the maximum enjoyment while minimizing environmental impact.
3. Effective use of space
In outdoor patios or balconies, every square foot of space counts. Traditional furniture pieces that are bulky or have an awkward shape often take up more floor space and make it challenging to position them next to other furniture pieces without disrupting the overall design. In contrast, modular furniture is specifically designed to optimize usable space, with pieces that fit together seamlessly like puzzle pieces. The modular design allows for efficient use of space, enabling you to create a cohesive and functional layout without wasting valuable floor area.
4. Good for small spaces
If you prefer to start with a smaller outdoor furniture setup and gradually expand it over time, modular furniture is an ideal choice. Each modular piece is designed to function as a standalone unit, regardless of whether it is combined with other modular furniture. As a result, your outdoor space will still look complete and stylish even if you only have one or two pieces to begin with. You can continue to add more modules as your space and needs evolve. The flexibility of modular furniture also allows you to remove modules as necessary, either to furnish other areas or to create additional seating arrangements. With modular furniture, you have the freedom to customize your outdoor space at your own pace and according to your specific requirements.
5. An Ideal Focal Point for Outdoor Settings
Modular outdoor lounges are typically offered in "L-shaped" and "U-shaped" configurations, although their modular design allows for customization to suit your preferences. These lounges can be enhanced by pairing them with other outdoor furniture pieces, such as aluminium outdoor furniture, garden furniture, or outdoor dining settings. To accommodate extra guests, it's always a good idea to keep extra outdoor chairs on hand that complement and enhance your outdoor setting. With modular furniture, you can create a cohesive and functional outdoor space that reflects your unique style and meets your entertaining needs.
Top Selling Modular Furniture Sets

Certain modular seating sets will best suit your style depending on the size of your space and the type of entertaining you'd like to do within that space. Explore these options as examples: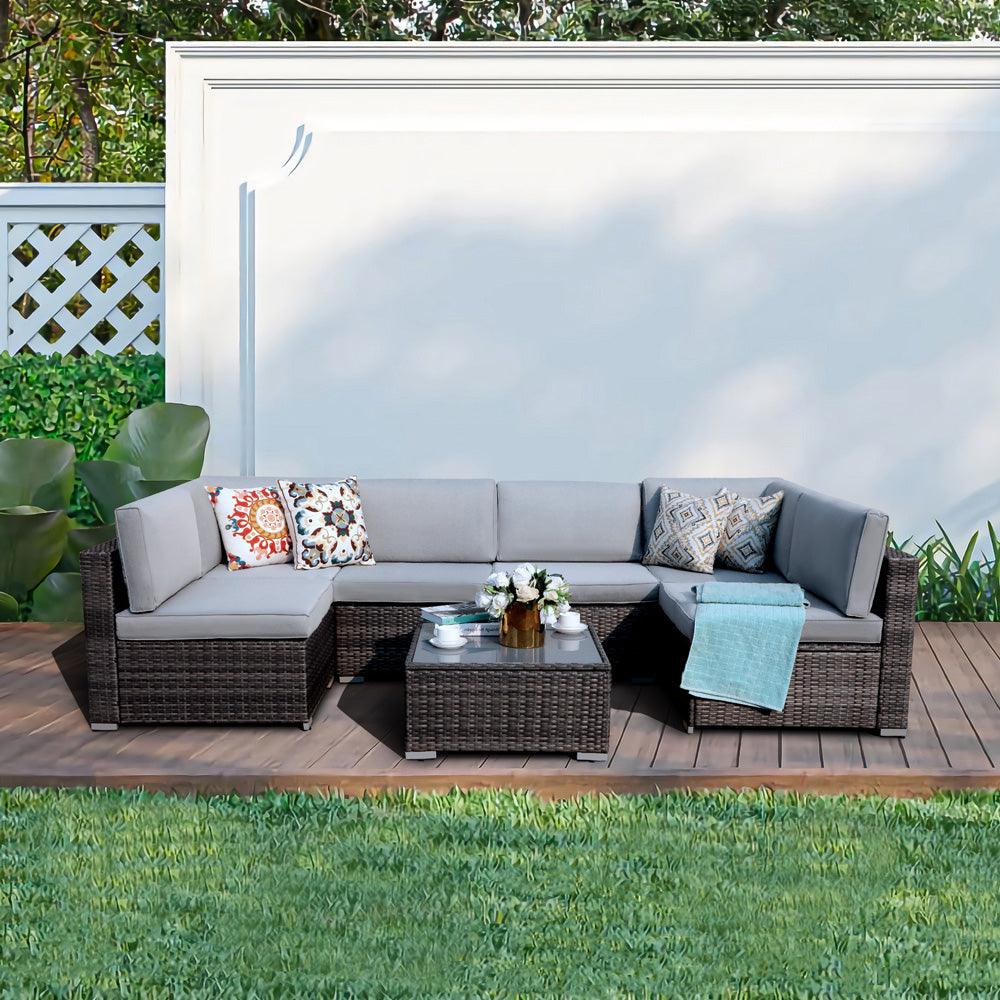 Designed to handle all weather patterns—Made of high-quality PE rattan wicker, all-weather resistant synthetic resin is built to last while having a sleek and stylish finish. 4-inch thick lofty sponge padded seat cushions and back cushions take you more extraordinary comfort, enjoy your leisure time whether sitting or lying. The Grey All-Weather Wicker Patio Sofa Set includes Armless Sofa, Corner Sofa, Coffee Table, and ottomans. When lined up together, arrange this modular furniture unit by the pool or break apart for separate seating in the evening around a fire pit.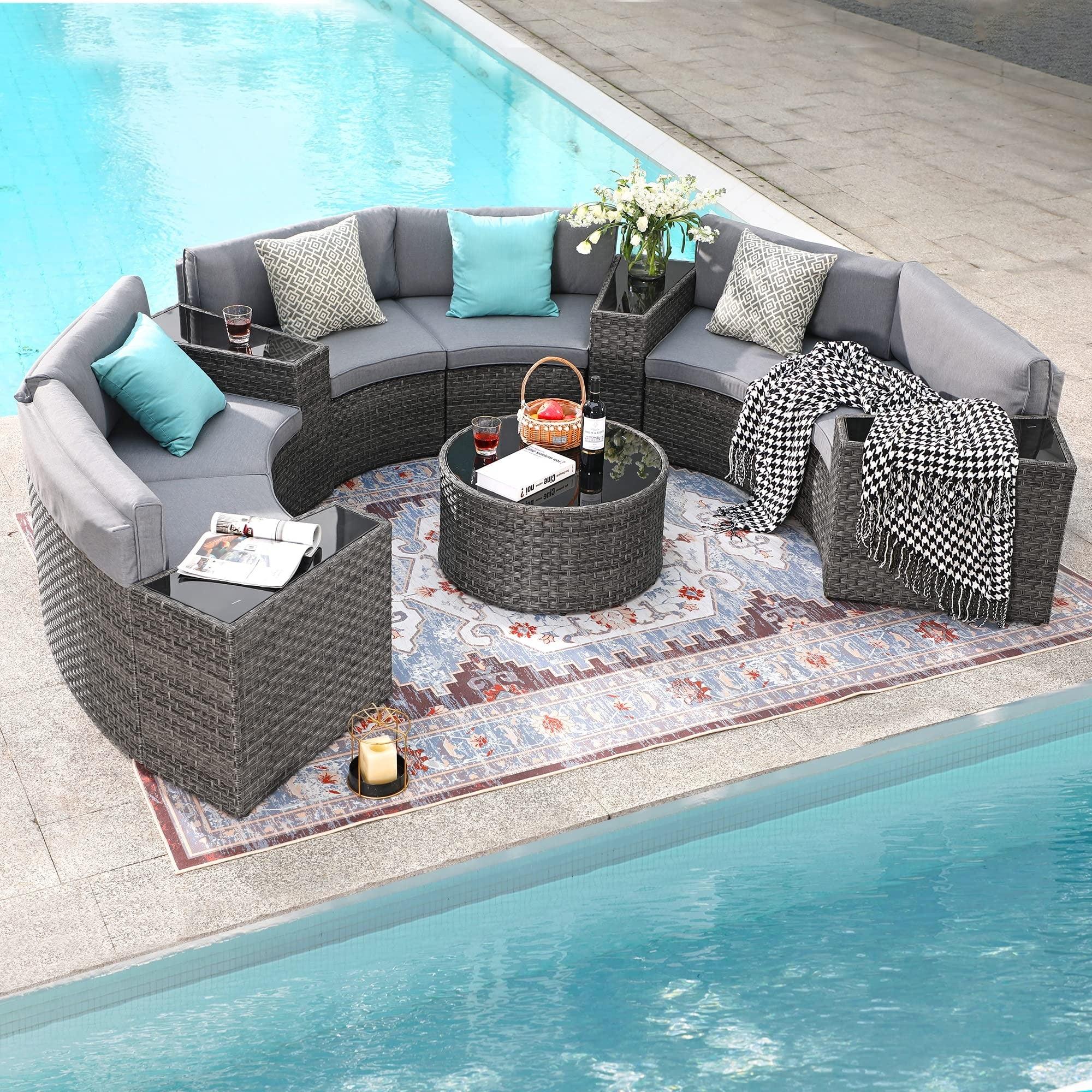 For hosting cocktails and coffee, consider the curved outdoor sectionals, perfect next to the water or on a slate patio. This versatile set includes two more side tables, ideal for setting seasonal décor, snacks or drinks. The oversize ottomans work perfectly as seats for kids and adults alike. This set makes it easy to move select seating when you're looking to set up a smaller gathering area by the pool, across the yard or by the barbecue.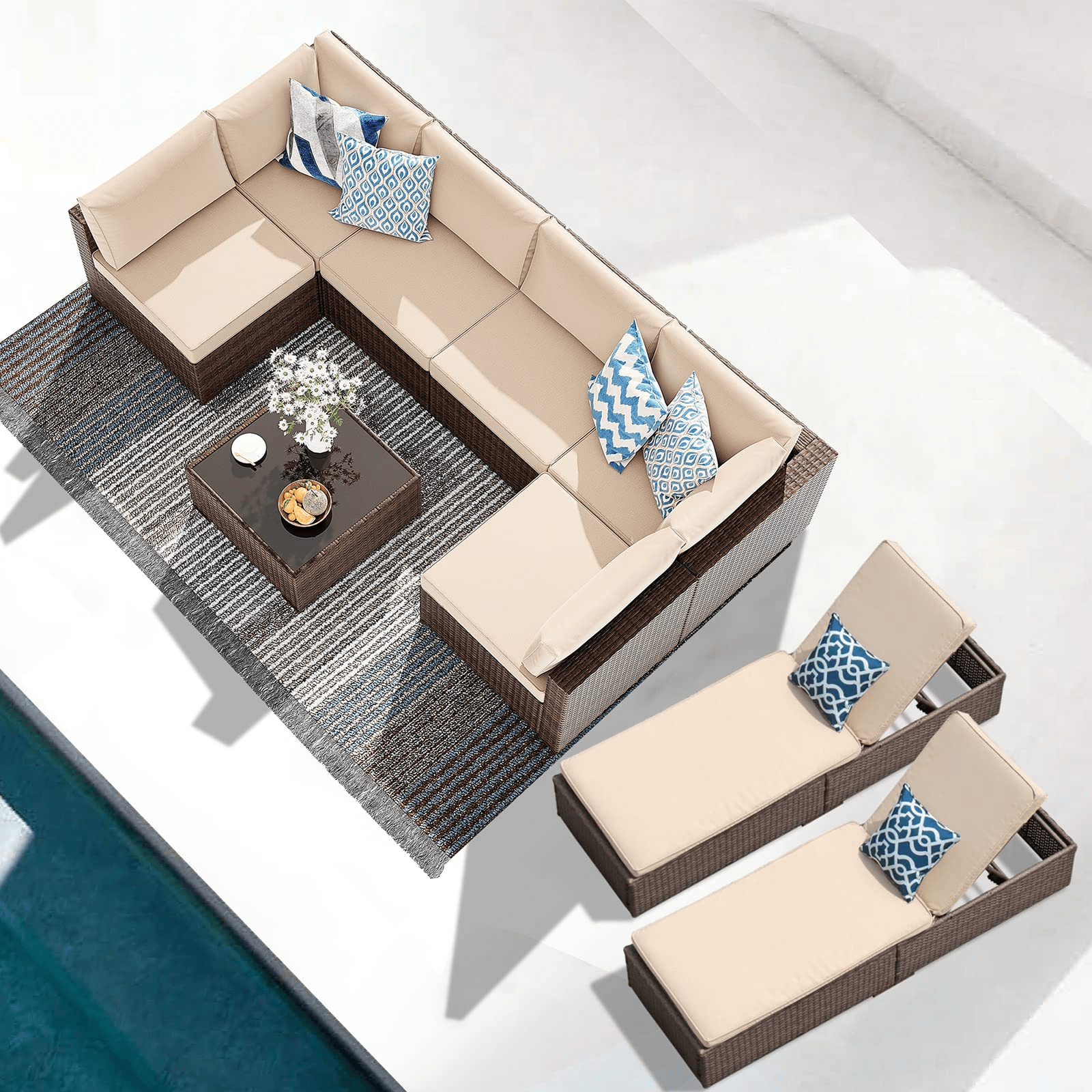 For larger entertaining areas, the 9pcs Outdoor Sectional Sofa with 2 Lounges modular seating set is a stylish, clean and dynamic way to gather up to eight people around the matching side tables for barbecue, drinks or even crafts with the kids. Transfer this set into an L or U-shape for fenced-in porches or patios, or even spread the set into two separate meetings areas during parties.
---
Modular patio furniture strikes the perfect balance between style and practicality, making it effortless to select the ideal patio set for your outdoor area. These versatile seating sets are a valuable investment, as they seamlessly complement your seasonal decor and effortlessly blend with various architectural and home design styles. With an array of designs, styles, and sizes available, modular seating sets are a crucial addition to your backyard living space.
Comment