Explained! Why do Outdoor Furniture Manufacturers Choose HDPE Wicker?
Sep 29,2022 | Orange Casual
Are you searching for a guide to the materials of outdoor furniture? Do you think finding a high-quality material for outdoor furniture is hard? Orange-Casual can help you locate the answer.
Use this info when you are shopping for outdoor wicker furniture. Depending on the materials used, prices can vary widely on Outdoor Wicker furniture.
Resin wicker isn't natural. It's made from polyethylene resin which is spun into strands and made into furniture like rattan, or bamboo is weaved. The most durable furniture made from resin wicker is made of high-density polyethylene (HDPE) due to its toughness and resistance to fading under the sun. Find the symbol for HDPE that is a triangular shape by arrows, with the two numbers in the middle in the search for furniture made of resin. Avoid cheap PVC furniture when durability is your priority.
Most of the time outdoor patio furniture is constructed from synthetic resins. The resin wicker is designed to look just like natural wicker. By the way, Fun fact! Wicker comes in the Scandinavian word "wika," which refers to "to bend."
Then, why should we pick Resin Wicker?
First, as we mentioned before, durability matters. Based on the test, high-quality resin wicker furniture is expected to last 10-15 years. Since resin wicker does not biodegrade rapidly, it's more durable than natural materials such as bamboo and is more resistant to sun and rain harm. It's better suited to be used outdoors and requires minimal maintenance apart from cleaning with dishwashing or window cleaner liquid after it has become dirty. HDPE wicker is water-resistant that is resistant to mold and mildew. It doesn't fade or stain and since the color is built into the fabric, there's none of the paint flakings.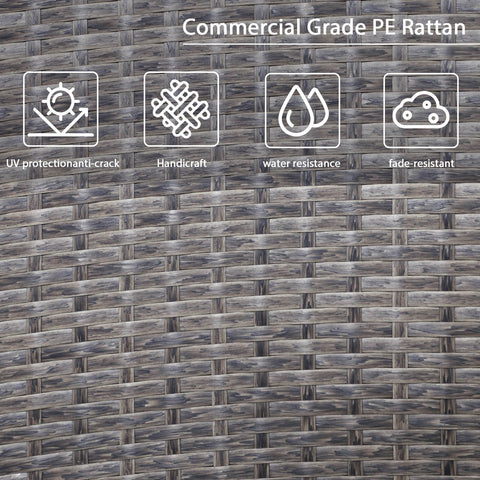 Another benefit is that it is easy to maintain and fix. The individual strands of synthetic wicker furniture for outdoor use rarely break in normal usage; however, repairs are simple to fix if they do. Repair kits for plastic rattan with various colors to match almost all furniture brands are readily available and generally will cost you a little money. Repairs involve weaving a new plastic strand over the damaged one and then attaching it using epoxy.

At Orange-Casual, most outdoor furniture sets are made of HDPE Wicker. There is a number of outdoor furniture in our website such as curved sectionals, dining sets, bistro sets and lounge chairs.

All Outdoor Furniture sets have been manufactured to help you make the most of your cherished moments; from having a glass of wine to relaxing on the loveseat with family and friends. Come and get a Half Moon set at an affordable price.
Comment