Perfect Patio Furniture Arrangement Tips
Apr 28,2022 | Orange Casual
Perfect Patio Furniture Arrangement Tips
There is nothing better than spending a lazy afternoon relaxing on a clean patio with fancy patio furniture. You can influence the overall appearance of your space by how you arrange your patio furniture, be it on your balcony or backdoor. It's important to stay current and innovative. Although you can arrange your patio furniture to your preference, you can learn some design tips before you start decorating your patio deck.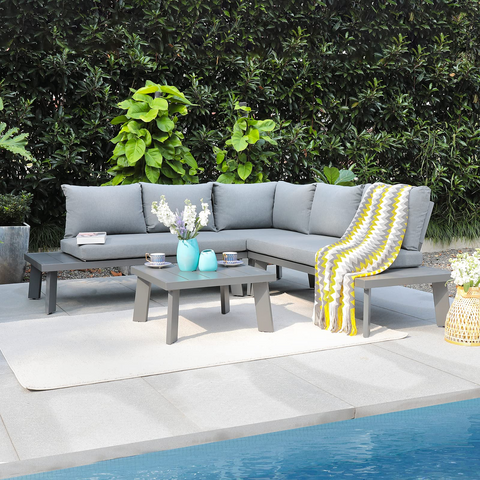 What is the Purpose of Your Patio?

Before you start making arrangements, it is important to determine the purpose of the patio. You need to decide if the patio will be used as a dining space for family members, a party area, or just for personal relaxation. You will decide if you want to make it a formal space or casual.

Compliment your Desire

Once you have decided on your purpose, it is time to create and implement your ideas. You can host dinner parties by choosing a stunning dining set that suits your style. Also, you can find trendy patio furniture for casual entertainment. For relaxation and comfort, choose a chaise lounge, a sofa with warm throw pillows, armchairs, or side tables with ottomans.

Balance it Up

There are many ways to create a balanced patio. To create a balanced seating area, one option is to mix smaller patio furniture pieces with larger pieces. Of course, you can choose a different type of patio furniture can be used in seating. In your backyard, you could use bistro sets, wicker and iron furniture.

The Fire pit Area

Fireplaces are popular places to gather on wet or cold days. The layout of the pit is largely what determines the arrangement of the seats. A circular fire pit can work well with a converging sofa. You can use single chairs to make a circular fire pit. Another option is to get an armchair or a sofa and place it on one side. Make the space comfortable.

Dining Area

Once you have created your kitchen, you will be able to create a separate dining room.You can create a separate dining area outside for people to eat and drink after dinner.You can make them feel warm and comfortable by adding cushioned chairs or an outdoor rug. The outdoor rugs can help you distinguish between the two areas.

Make full use of the Corners

It is common for most people to place two patio sofas next to each other. How about changing the positions and make the full use of the corners. It will create a more intimate space and make it easier to move around and add extra patio furniture.

Conclusion

You can easily change your patio furniture arrangement according to the seasons, your taste and preferences, or any other circumstances. It's all about expressing your style through furniture arrangements. Here are some guidelines and design rules to help you get started. Space should be left for movement and free flow. I would love to know your top tips, so please leave a comment.


Comment