What to Consider When Choosing the Best Wicker Rocking Chair?
Feb 13,2023 | Orange Casual
When it comes to wicker rocking chairs, there are several factors to consider, such as comfort, durability, style, and price. Here are a few popular options that have received high ratings and positive reviews from customers: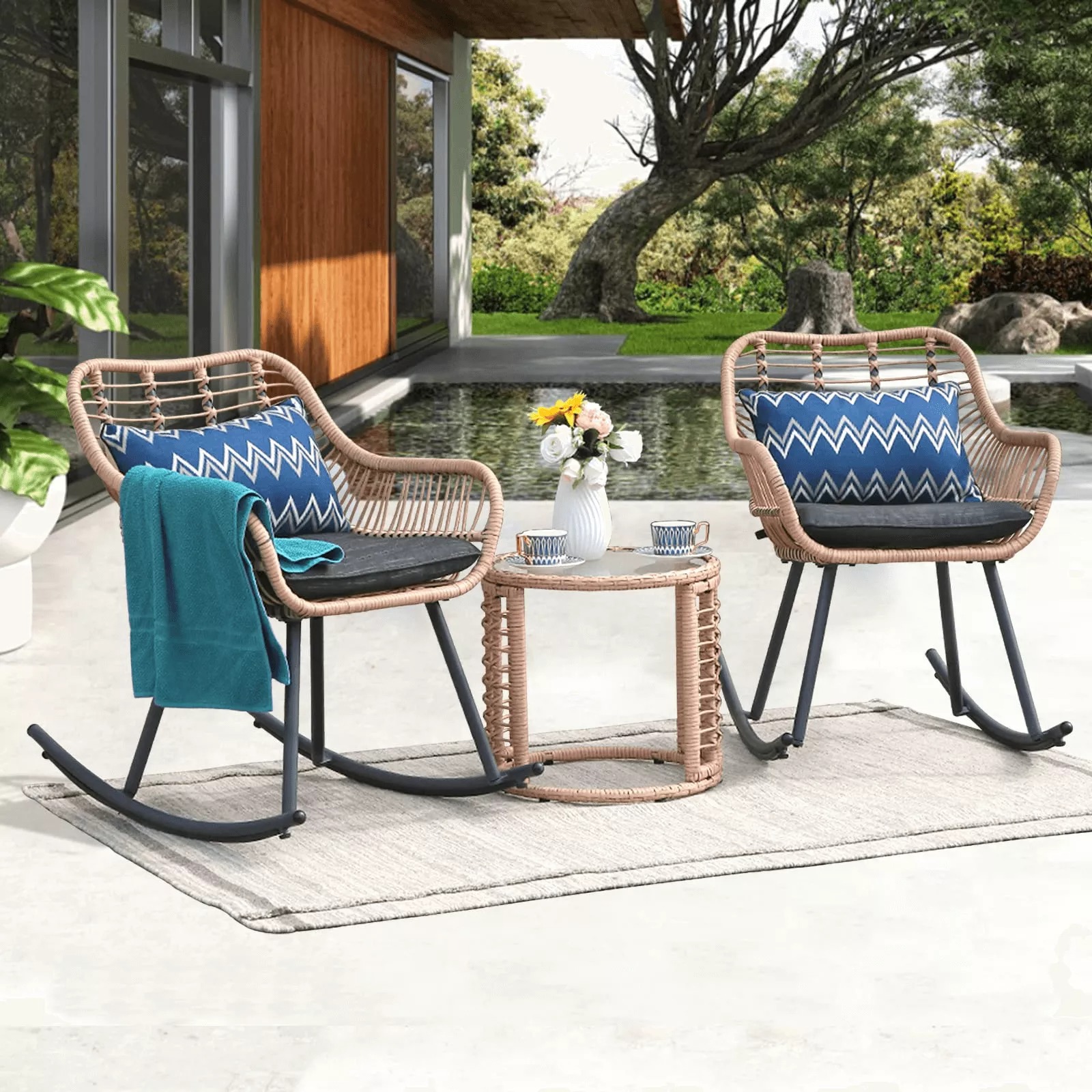 Longevity
The material of your wicker rocking chair is one of the most important factors to consider—you don't want to waste your money by having to purchase new rocking chairs after one season. Natural wicker is perfectly fine for indoor use but it's not suitable for the outdoors. That is why resin wicker is used to make outdoor wicker furniture that looks and feels like the real thing. Also known as All-Weather Wicker, synthetic resin wicker is made from resins that are extracted from plant matter. Synthetic wicker is typically built on aluminum frames. This makes them very lightweight so you might have to find some ways to keep your patio furniture from blowing away. It is resistant to breaking, scraping, and also fading, and also it's the best product for outside wicker furnishings. When well maintained, a high quality outdoor wicker rocking chair can last for 15 years or more.
Comfortable and Firm Seat
For maximum comfort, the best outdoor patio furniture should entice you to relax and stay awhile. If you prefer a firm seat, a chair with a wooden base or a thinner and firmer cushion may be your best bet. However, if you prefer a softer seating experience, consider a chair with a synthetic base or a thicker cushion.
Supportive Cushioning
When choosing a wicker rocking chair, you will need to decide whether you want one with or without a cushion. While a cushionless chair can still be comfortable, a cushion provides added comfort and plushness. It is best to opt for a cushion made from supportive materials such as foam or compressed polyester, which are commonly used for outdoor cushions. Some chairs even come with two cushions for extra support, one on the seat and another on the back of the chair.
Weight & Dimensions
When it comes to the dimensions of your outdoor wicker rocking chair, it's important to find a balance between comfort and accessibility. The chair should not be so narrow that it's uncomfortable to sit in, nor so wide that you cannot reach the armrests easily. It's also crucial to check the height, ensuring that your feet can reach the floor comfortably.
Durable Fabric
When selecting the fabric for the cushion of your outdoor wicker rocking chair, synthetic materials such as polypropylene, vinyl, and polyester are ideal options. These materials have the advantage of being water and stain resistant, and they are less likely to fade when exposed to sunlight compared to other types of fabrics.
In addition, consider the weight of the chair. A stable and sturdy chair that does not move around when you're seated is crucial, but it should not be so heavy that you cannot move it easily on your porch or patio. A balance between stability and ease of movement should be sought.
FAQs
Q: How To Clean Outdoor Wicker Rocking Chair?
Vacuum the wicker rocking chair regularly, using a brush attachment to remove dust from the crevices. If it is heavily soiled and vacuuming is not enough, spot-clean the wicker with a solution of mild dish detergent and warm water, using a sponge or an old toothbrush. Rinse with a clean, damp sponge or rag. But if your wicker chair gets really dirty, or it's full of dust after the off-season, you can give it a deep cleaning by hosing it down. If necessary, rinse it with a hose, then scrub it with a soft brush and soapy water, then rinse again with the hose. Let wicker dry thoroughly before using the chair.
Q: How Long Does Outdoor Wicker Rocking Chair Last?
Properly cared-for wicker rocking chairs can last 10 to 15 years. The price of the wicker rocking chair ranges from $200 to $600, it is definitely a worthwhile investment. Synthetic wicker is more durable and easier to care for than natural wicker while replicating the look of traditional natural wicker. Our wicker rocking chair is popular on sunporches, decks, patios, and pool areas.
Q: Is Your Outdoor Wicker Rocking Chair Worth Repairing?
If the wicker itself or the structure of the chair is too badly damaged, it would be a waste of money to put any effort into it. Because heat from the sun can be drying, our outdoor wicker chairs are made with synthetic materials and treated with resin, only requiring nothing more than a thorough cleaning and a new coat of paint.
Q: Is Wicker Rocking Chair Good For The Outdoors?
Natural rattan or paper fiber wicker cannot be used outdoors for extended periods of time however, synthetic resin wicker can be used outside. All Orange Casual® outdoor wicker chairs are made with synthetic materials and treated with resin and are fine to be used outside. Although outdoor wicker rocking chair is made to withstand the elements, you should always use care to ensure that any type of outdoor furniture lasts for extended periods of time.
Q: What's The Difference Between Indoor and Outdoor Wicker Rocking Chairs?
Outdoor wicker rocking chairs commonly use synthetic vinyl and resins as materials for outdoor wicker furniture rather than organic materials preferred for indoor wicker pieces. Because pieces placed outside need to withstand moisture, sunlight, and dry conditions for use in various climates, synthetic options help prevent wicker furniture from breaking down over time. Organic and natural materials are better suited for indoor use and in more protected environments.
Made of high-density polyethylene resin wicker over a steel frame, Orange-Casual's stylish and durable outdoor rocking chair is built to last. With the included cushions on the seat and chair back, this outdoor rocker offers soothing and rhythmic movement as you relax, which will make you want to spend the whole day on your patio. They can be used indoors or outdoors.
Q: Is Wicker Wicker Rocking Chair Durable?
The materials used in the making of wicker rocking chairs are incredibly strong and durable. Whether it's rattan, reed, or bamboo, the material is strong before it's even turned into outdoor furniture. Once the wicker material is woven onto a frame, it increases in toughness and durability. When you're weaving the wicker material, it increases the strength of the material dramatically.

Q: Can I Paint Outdoor Wicker Rocking Chair?
Yes, you can paint it with Paint Sprayer – By far the best choice for painting any kind of wood or resin woven, indoor or outdoor wicker furniture. A paint sprayer gives the most consistent smooth overall finish by far and can be used with a wide variety of paints.
Q: Can Outdoor Wicker Rocking Chair Get Wet?
Synthetic resin wicker is usually made from a waterproof material like PVC. There is nothing in a synthetic wicker that will be destroyed by rain; however, Anything that has prolonged exposure to moisture can attract mold or mildew. like everything else in your yard, if you want to prolong its life and keep it looking good, you'll need to take good care of it.
Comment