7 Ways To Arrange Outdoor Furniture
Jun 13,2022 | Orange Casual
Are you looking for ideas on how to arrange outdoor furniture? The way you arrange outdoor furniture can make a big influence on your home. It's crucial to have an outdoor porch layout that suits your needs.Here are 7 easy ways to arrange outdoor furniture in any outdoor space.
1.An elegant way to arrange outdoor furniture -- A sofa and two chairs
We recommend the classic combination: a porch sofa and two chairs. This is our go-to method for arranging outdoor furniture. The same layout as your living room, it works well in all situations. We love the outdoor rug in the porch. It gives the outdoor space the feel and look of a real living room.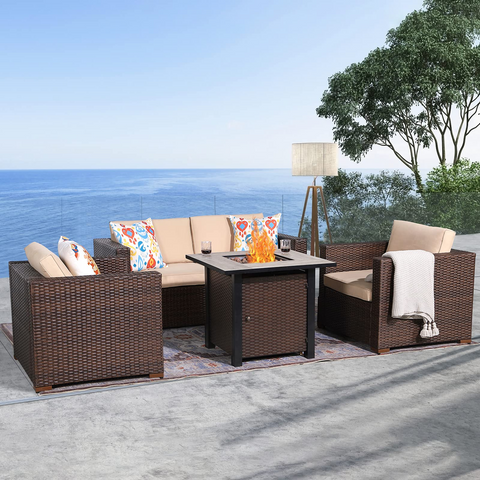 Tip: Consider switching your outdoor coffee table for an outdoor fire pit table in the cooler months to make your space more usable all year around.
2.Arrange your outdoor furniture by creating a corner with 2 sofas
You might think that placing two sofas face-to-face is the best way to go. However, it's not always the best idea. We also love creating a corner using two outdoor sofas. It creates an intimate space where you can have a chat with your friends. You can also open the space to allow for more flow.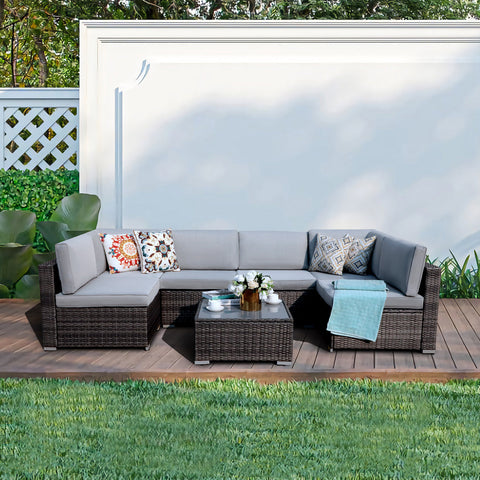 Tip: You can also add outdoor decor such as throw blankets, outdoor rugs, indoor solar lanterns, outdoor drapery, and outdoor rugs.
3. Add a Chaise to Your Porch Arrangement
Although chaise lounge chairs are usually regarded as a way to relax by the pool, they can also be used in other seating arrangements. This is how our Adonis Collection was used to create an asymmetrical arrangement: a sofa, chair, coffee table and chaise in one corner.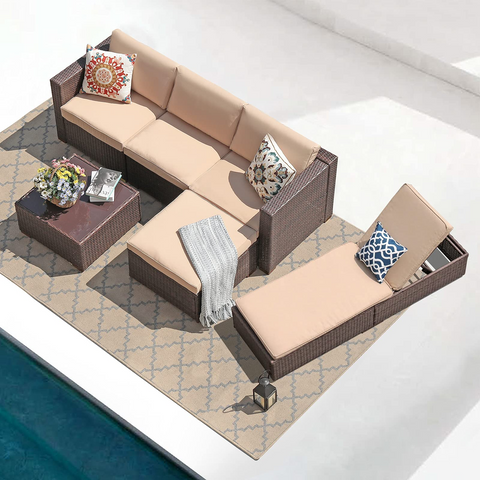 4. You can substitute a chair for an ottoman
An ottoman can be a great alternative to a chair if you have limited space or insufficient budget. An ottoman can be used as a footstool, or extra seat, when entertaining. An ottoman is more versatile than a chair which is especially helpful when you're trying to design your outdoor furniture layout.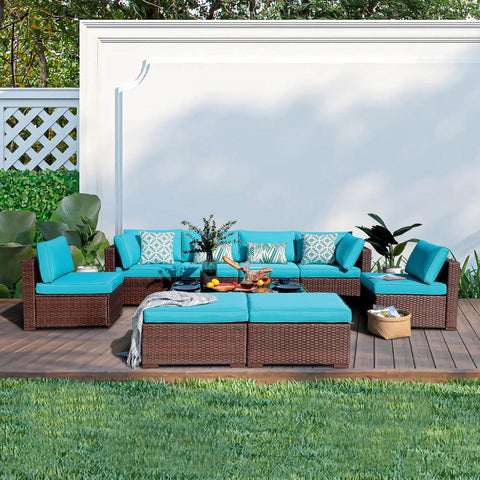 5. Arrange Outdoor Furniture with 4 Chairs in a curved sectional
There is no rule that says you can't use a couch on a porch. This porch is the perfect example of how inviting four armless sofas can make it. How chic is that? The perfect place to share a cocktail with friends is to arrange four chairs in a half circle while you wait for the grill fire up.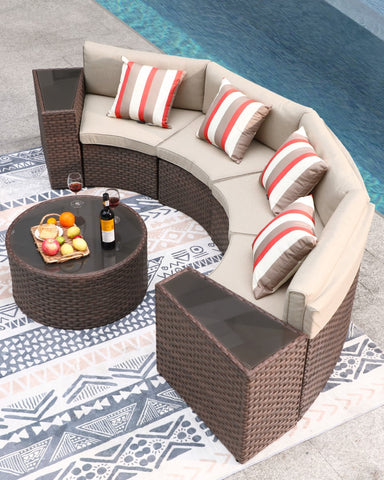 6. Dining and Seating in a Small Space
Decorating a porch can be a challenge. Do you want a space for dining or sitting? You can have both! You can combine both by using just one pair of chairs. It's much easier to fit two long chairs into one space than a sofa and a coffee table. We substituted traditional dining tables with modern coffee table in order to keep the space above from becoming cramped.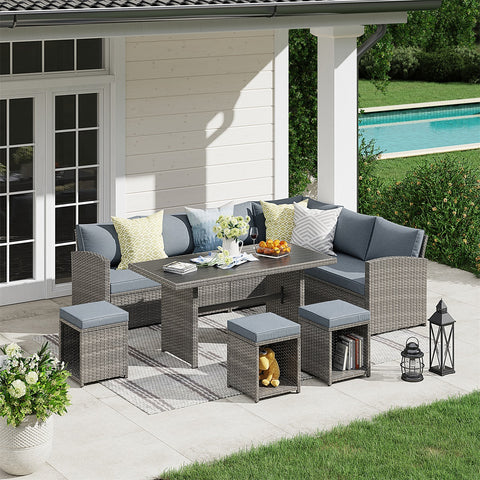 7. Mix It Up
Do you really need to limit your space? It doesn't matter if you have a large porch. It's possible to mix and match outdoor furniture. In Orange-Casual, we also sell single items such as side table, 1-pc armless sofa, rocking chair and loveseat. You can purchase them based on your specific needs.
Comment