Have Summer Fun With An Outdoor Patio Umbrella
Aug 09,2022 | Orange Casual
Summer is a good time to relax with your friends, family, and guests in your backyard, garden, or swimming pool. So you need to purchase a patio umbrella of high quality to entertain your guests on your patio or set up your pool deck to welcome guests to your resort during the summer months.
Here are some great benefits of large patio umbrellas outdoors. You might be surprised by some of them.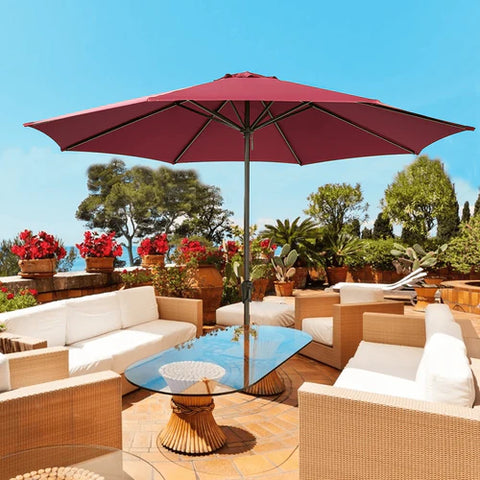 Health.Have you ever wondered about the power of sunlight? Admittedly, according to the Institute for Quality and Efficiency in Health Care, it's a small amount. Five to ten minutes for fair skin is more than enough. A large umbrella outdoors can protect you from harmful sun UV (ultraviolet) rays. You need to know that too much UV will hurt your skin and cause skin diseases. Therefore, having an umbrella when you stay outside is a healthy way to protect your skin.
Privacy. A patio umbrella can give you privacy from everyone, not just your neighbours. Feel free to stay inside, and You can adjust it in any direction you like with cantilevered umbrellas.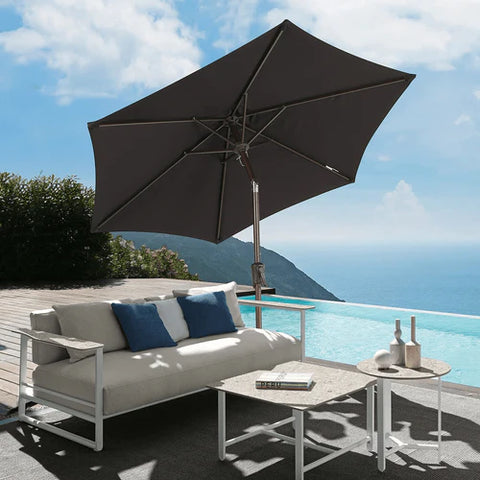 Temperature. It doesn't make it cooler to have shade in summer. But the patio  umbrella protects you from the UV rays, making the area feel cooler. It can  make  it feel up to ten degrees cooler. A good patio umbrella will significantly impact your comfort outside, especially if it is hot and sunny. 
Use it for all seasons. You can have an umbrella on your deck or patio in summer. However, you can also use the umbrella the whole year. Imagine yourself outside enjoying a warm drink and photographing the sunset, even though it is snowing. An outdoor patio umbrella is large enough to cover your entire outside area and will make it possible to enjoy the outdoors in all seasons.

Protect Your Devices &Furniture. Do you enjoy working outdoors? You'll know that it is important to keep your electronic devices dry. You can also use the  patio umbrella to protect furniture from the rain and snow. It will effectively extend  the furniture's service life.
How to choose a suitable umbrella? The most popular size in the market is the  7.5ft & 9ft. 11ft umbrellas can also be a good option.
It would help if you chose umbrellas made from good materials. You may need asturdy one made from breathable, light-filtering, water/UV resistant fabric. At the same time, a heavy-duty frame must not be neglected. The canopy's support structure is solid steel with a steel pole. It resists wind damage and can withstand warping.

A crank system is essential for an umbrella. The umbrella will open and close  quickly with a simple crank mechanism, which keeps you cool and comfortable  in the blazing sun.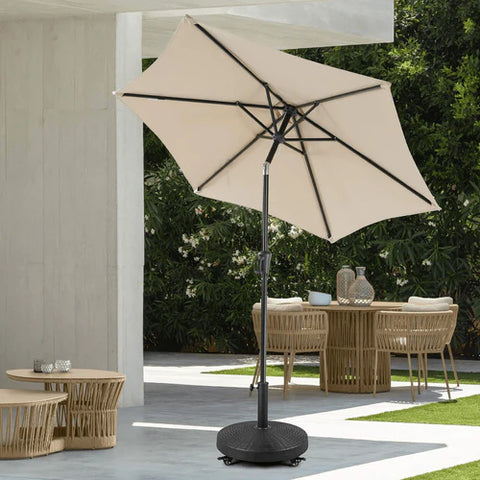 Be sure to purchase a strong base for your patio umbrella. A base with artificial  stone inside will help keep the patio umbrella in place even when it is blowing  hard. It would be more convenient if the base were equipped with wheels, which  can be locked so that what can move the umbrella to wherever it is needed.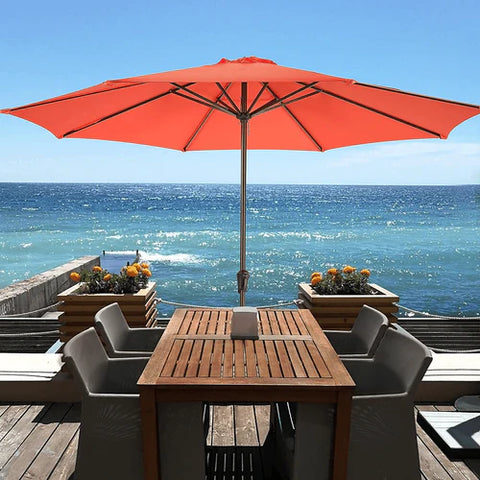 It will be the end of summer, but the sun always shines. Choose a good & multifunctional patio umbrella for yourself. Make summer more enjoyable!
Comment